Here's Exactly How Long It Takes to Beat the Destiny 2: Lightfall Campaign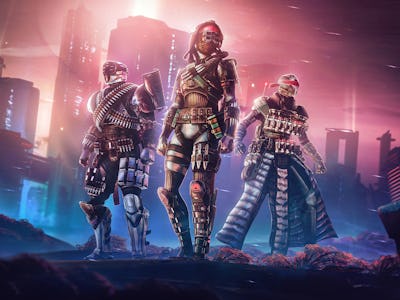 Bungie
Welcome to the penultimate chapter of Destiny's Light and Darkness saga. The aptly named Destiny 2: Lightfall final puts the villainous Witness front and center following their tease in last year's The Witch Queen. The massive new annual expansion adds the cyberpunk city of Neomuna on Neptune along with a new subclass element called Strand. All Guardians will unlock their new Strand-based subclass as part of the expansion's campaign, but how long will that take? And how long is the overall campaign, whether or not you tackle the more challenging Legendary difficulty?
Here's how long it takes to beat Destiny's latest expansion and what else you can expect to spend time on.
How long is the Destiny 2: Lightfall campaign?
It should take between 5 to 8 hours to beat Destiny 2: Lightfall. In short, it should take just two casual nights of playing to blaze through all the content on Normal difficulty. Maybe even one if you're zealous. Expect the playtime to take significantly longer on Legend difficulty, though. It could take double the time — like 10 to 12 hours to beat. But expect plenty of ongoing content rolling out each week and season for the next year.
Destiny 2: Lightfall Campaign Mission List
Destiny 2: Lightfall has eight main missions, which was also the case for The Witch Queen. You need to complete all of them to finish the Lightfall campaign. Here are the eight missions in order:
First Contact
Under Siege
Downfall
Breakneck
On The Verge
No Time Left
Headlong
Desperate Measures
These aren't the only missions in Lightfall, though. There are also smaller side missions that you can complete in addition to the main ones along with various weekly ritual activities.
What are the Destiny 2: Lightfall Legendary Campaign Rewards?
Sure, completing Lightfall's Legendary campaign might be worth it just to challenge yourself. However, it also rewards players with more loot than a Normal playthrough would.
Gear Bundle (1770 Power)
Exotic Armor
300 Strand Meditations
8 Upgrade Modules
Triumph and Emblem
The gear bundle especially would help players trying to raise their Power levels. It's not necessary to complete Lightfall's Legendary campaign, but it's certainly a rite of passage that the game's most dedicated players ought to pursue.
How Do You Unlock Strand in Destiny 2: Lightfall?
Destiny 2: Lightfall introduces a new subclass element called Strand, a power rooted in the Darkness. It weaponizes Darkness as a kind of psychic extradimensional energy that allows the user to manipulate their environment. In other words, it's basically green telekinesis with some added flair. You will have brief opportunities to try Strand during your core Lightfall missions, but it won't be the same as unlocking the class for free use. That can only be done at the end of Lightfall.
That's right: You need to complete the entire Destiny 2: Lightfall campaign to get Strand.
So it will take you about the same amount of time to get Strand as it does to finish Lightfall. After completing the final mission, speak with Zavala and Ikora at the Tower. You will then be directed to the Hall of Heroes on Neomuna where you can meditate to receive the Strand subclass. That doesn't include the Strand Meditations you need to unlock Strand Fragments, though.
Can I Pay to Skip the Destiny 2: Lightfall Campaign?
Bungie added the option to pay to skip the Lightfall campaign for your other characters if you already completed it once on your account, but there's no way to do so if this is your first time.