BioWare says trans rights and women's rights as other game companies stay silent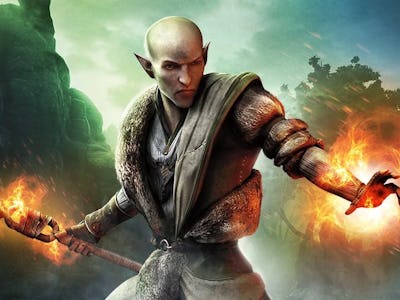 BioWare
Mass Effect developer BioWare is the latest gaming company to support "trans rights, women's rights, and bodily autonomy." This might seem like the typical Pride schpeal, but the political climate during the Roe v. Wade debate in the U.S. Supreme Court makes taking a public side a bit of calculated risk for companies that rely on sales from consumers that may or may not be politically motivated. Gaming companies are slowly starting to come out in support of bodily autonomy, and BioWare adds to the list of fighters that women and LGBTQA+ community members can count on to vocalize their support of their rights.
BioWare tweeted support for abortion and trans rights on June 1 — the very first day of Pride month — from its official Twitter account. It's attributed to BioWare General Manager Gary McKay, who worked as a Senior Director at Respawn before moving into his current position. Still, many fans take this statement to be one from the company rather than a personal one from McKay. Perhaps it is both?
"BioWare supports trans rights, women's rights, and bodily autonomy. Diversity, equity, and inclusion are a cornerstone for our studio and games. We don't consider these human rights up for debate," read the tweet. Notably, BioWare has the comments turned off.
It might seem like a Pride month blanket statement at first glance. However, "bodily autonomy" stands out because of the ongoing controversy about the Supreme Court's attempt to overthrow Roe v. Wade. There's also the very obvious truth that BioWare is a company that's struggled to develop titles that truly resonate with gamers in recent years. (Anthem, for instance, was a total disaster.) Less than 24 hours after the tweet of solidarity, BioWare announced that Dragon Age 4 would be titled Dragon Age: Dreadwolf.
Regardless of how calculated this series of messages was, the fact is that in an industry where many companies remain apolitical so as to not alienate potential consumers, BioWare is taking a stand on issues that matter. Particularly considering the approach its parent company has taken, this is bold indeed.
BioWare is one piece of the larger pie that is Electronic Arts, a company that famously claimed that it wouldn't make any statements about either side of the Supreme Court hubbub. Instead, it encouraged "healing circles," which is corporate-speak for, "Hey, can't we all just get along?"
BioWare is only the latest gaming studio to come out in support of abortion and trans rights. That shouldn't be a surprise because it's Pride month, but it's especially relevant now because of hypocritical it is to say that you support LGBTQA+ communities without also supporting the Roe v. Wade legislation that would protect their rights.
Apex Legends developer Respawn Entertainment, which is also part of EA, recently posted a statement supporting abortion and trans rights after its parent company issues the wishy-washy comments. In the statement, the Respawn highlights its support for transgender members of its community and anyone "facing discrimination and attempts to curtail their autonomy." EA executives also made their own personal statements in light of the company's refusal to speak up for women's and trans rights.
"Trans rights are human rights," Respawn head Vince Zampella tweeted on the same day as his studio's statement. "Respawn has grown on the principles of diversity, equality, and inclusion and strives to uphold those values."
Bungie was the first gaming studio to speak out about women's rights and bodily autonomy at the beginning of last month. It stood out at the time, considering nobody else jumped on the bandwagon to back it up. Like with EA and Bioware, parent company Sony was less sympathetic. Bloomberg reported that CEO Jim Ryan emailed staff to respect differences in opinion before attempting to make light of the situation with an anecdote about his cats and desire to get a dog.
Jason Schreier, who authored the report, added on Twitter that the email included a part that said "dogs really are man's best friend, they know their place, and perform useful functions like biting burglars and chasing balls that you throw for them." As expected, Sony employees were not thrilled.
Gaming companies have been slow to publicly show support for pro-choice believers, even if some do behind doors. Some companies like Amazon are even offering monetary aid for employees to receive abortions if they need it. Meanwhile, other companies are still fumbling for the ideal tweet to show that they want gays to buy their games without outwardly supporting the legislation upholding their rights.
Personally, I don't think BioWare will be the last company to speak out. Pride month has only just begun, so we have the whole month to watch this show unfold.