You need to play this long lost Mario game on Nintendo Switch ASAP
This Japan-only SNES puzzler is an unexpected Mario spinoff highlight.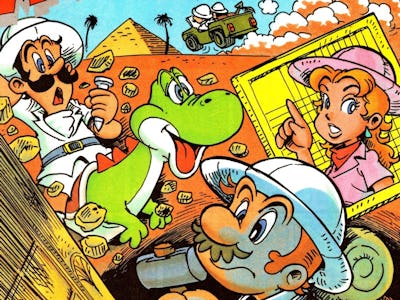 Wonder Life Special
Mario's birthday bash is almost over. After his 35th anniversary in 2020, the Italian plumber will turn back into a pumpkin at the end of March when Nintendo removes Super Mario 3D All-Stars and Super Mario 35 from the eShop. Fortunately, there is no shortage of Mario games to play on Switch, including some very obscure ones.
For those looking to cap off the party with a true deep cut from the franchise's past, Mario's Super Picross is available through the Nintendo Online SNES app. It may not be exactly what you'd expect from the franchise, but it's an excellent introduction to one of the best types of puzzle games out there.
But first: How did gaming get you through the pandemic? We want to hear from you! Take this quick Inverse survey.
For the uninitiated, picross is a puzzle genre that sits somewhere between paint-by-numbers and crossword. The idea is to draw an image by filling in spaces on a grid. There are numbers in each column and row, which gives players a hint as to what spaces to fill in. See the number five at the top of a column? That means you'll need to fill in five consecutive squares somewhere in said column.
As is the case with most puzzles, the rules get a little more complicated as you go, meaning that you'll need to pick up some nuances in order to fully master more difficult grids. That's where our good pal Mario comes in.
What's so good about Mario's Super Picross is that it eases players in. You'll start with simple 5x5 puzzles that can be solved in under a minute. Then you'll slowly scale up in size, picking up different rules as you go. There are even some handy hint tools in the game to guide you if you get stuck. While the final images rarely have much to do with Mario, you still get to see some familiar faces like Wario along the way.
What's special about the game is that it was never available in the United States until it came to Switch Online. It originally launched as a Japan exclusive in 1995, making it one of the more niche titles in Mario's storied history. In recent years, picross has become much more popular stateside thanks to games like Pokémon Picross and the Picross S series. With that odd resurgence, it was only a matter of time before Nintendo made it available to North American players.
Mario's Super Picross is just one example in a long line of forgotten Mario titles. While Nintendo has worked hard to preserve the series' core games, it's been selective about what spinoffs players have access to. Mario's Time Machine? Dance Dance Revolution: Mario Mix? I Am a Teacher: Super Mario's Sweater? All of those — yes, I mean all of them — are real Mario games that have virtually been lost to time as Nintendo carefully curated its own retelling of the franchise's past.
That's to say that even oddities like this are important. They give us a fuller sense of gaming's past and often introduce us to creative ideas we may have otherwise looked over. Had Mario's Super Picross and its sequel had come to America back in the '90s, the puzzle game may have caught fire much quicker worldwide.
We can only speculate on that, but what we can say for sure is that Mario's Super Picross is a top-notch puzzler that's perfect for picross beginners. Come for the obscure history, stay for the puzzles.
Mario's Super Picross is available for Nintendo online subscribers through the SNES app.