Assassin's Creed Infinity wants you to play for all eternity
The murderous franchise is getting an online platform that will evolve over time.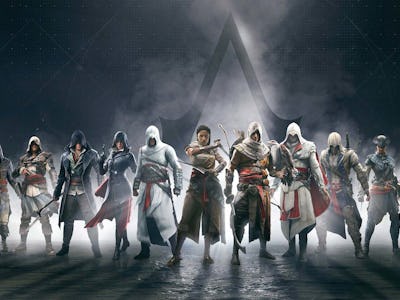 Ubisoft
Development on a new Assassin's Creed game was always inevitable, but who could have predicted that not only would the Ubisoft franchise announce multiple new titles but also a nebulous online platform that will evolve over time? That's right, the stealth action series is going live-service like Fortnite, Call of Duty: Warzone, or more accurately, Destiny 2. There are just as many questions as answers in regard to the upcoming Assassin's Creed Infinity. We've rounded up everything we know so far including its targeted release window, gameplay, setting, and overall structure to explain what Assassin's Creed Infinity really is.
When will Assassin's Creed Infinity be released?
There is no official release date yet for Assassin's Creed Infinity. Due to the unusual circumstance of the project not being a traditional game, it is hard to pin down when this will be released. It is likely to launch alongside a future Assassin's Creed game like the in-development Codename Red.
News of Assassin's Creed Infinity fires broke in a July 2021 Bloomberg report from Jason Schreier and several of his clarifying tweets.
When it comes to Assassin's Creed Infinity's release date, you shouldn't expect it until at least 2024, according to Schreier. "It's important to note that we're at least three years away from this thing coming out," Schreier said on Twitter.
Is there an Assassin's Creed Infinity trailer?
Yes! During Ubisoft Forward 2022 in September, Ubisoft devoted a large chunk of time to Assassin's Creed during which they announced several upcoming titles and gave the first in-depth look at what Infinity will be along with a snazzy trailer. Check it out:
It gives a look at two upcoming games, Red and Hexe, while jumping through an animus-like UI. The bubbles and lines that link games speak to the idea of Infinity being a "hub" as Ubisoft has called it.
What actually is Assassin's Creed Infinity?
Unlike the entire series up to this point, it seems like Assassin's Creed Infinity will be an online platform. "The future of Assassin's Creed is live service," Schreier said on Twitter. "Ubisoft Montreal and Quebec have teamed up for Assassin's Creed Infinity, a huge platform planned to have multiple settings."
But even this definition is still unclear as Infinity does not have much in common with other live-service titles like Fortnite. Infinity "is not a game, per see," said Executive Producer Marc-Alexis Côté, "it's going to be the single-entry point for our fans into the Assassin's Creed franchise into the future."
Players will be able to use Infinity as a game hub, through which they can access future titles like Hexe and Red which will be integrated into Infinity. The platform will not only connect future entries in the franchise but also players. This means that multiplayer experiences may be making a return to the franchise.
Rather than a single game that evolves over time like Destiny 2, Infinity will be a central place for Assassin's Creed. On a developmental side, this means more unity between Ubisoft studios, making for a more "cohesive approach" to development. "Rather than continuing to pass the baton from game to game, we profoundly believe this is an opportunity for one of Ubisoft's most beloved franchises to evolve in a more integrated and collaborative manner" reads a press release from Ubisoft about Infinity.
What are the Assassin's Creed Infinity platforms?
Infinity is still early in development so it is hard to say what platforms it will launch for. Most likely it will come to major platforms like PlayStation, Xbox, and PC, but beyond that it is unknown.
You will have to shell out money for Infinity on top of individual experiences like Hexe and Red. Côté made it clear that Infinity is "not going to be free to play." Infinity could be the price of a full game or even a subscription-based service that charges a monthly fee.
What is the Assassin's Creed Infinity setting?
That's the fascinating thing about Assassin's Creed Infinity. Unlike every other standalone game in the series that takes place during a specific setting and time period, Infinity will be different. It will reportedly cover multiple time periods and settings, changing over time as new experiences release for the platform.
The first two titles coming to Infinity will be Red, a feudal Japan set adventure, and Hexe, which looks to be a potentially scarier take on the series, were announced during Ubisoft Forward 2022.
The hub nature of Infinity will include more than just a fancy way to access games, it will also build out the modern story of the franchise. In recent years there has been less of the modern-day narrative of the franchise, something some fans have been unhappy with. By imagining Infinity as a personal animus, it will also provide unique story content of its own that delves into the lore of Assassin's Creed.
Fans can expect more crossover between individual stories, and the potential for a wider variety of historical settings if Ubisoft is able to make good on the idea that Infinity will help streamline development.
This article was originally published on