Armored Core VI Is Every Bit as Ambitious as Elden Ring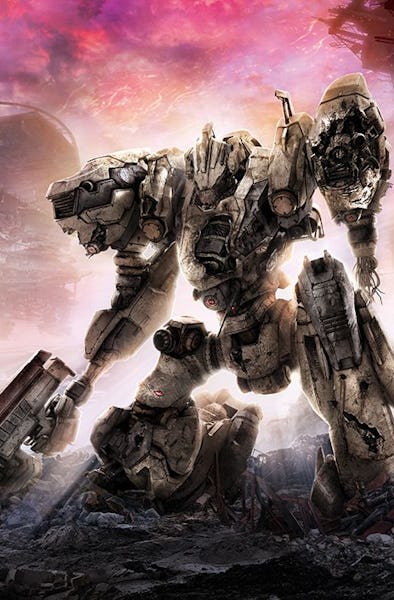 Bandai Namco
I had a white-knuckled grip on my controller as my suit catapulted through a sandstorm, dodging dozens of enemies and massive lasers as I tried to rocket my way up the imposing quadrupedal enemy fortress.
Armored Core VI: Fires of Rubicon is one of the most intense action games I've ever played, meticulously blending the franchise's past with the thoughtful design of FromSoftware's recent critically-acclaimed games, like Elden Ring. Our time at a preview event let us play through the entire first chapter of the game, roughly four hours, and Armored Core VI looks like it could be another instant From classic, but one with that trademark learning curve you'd expect.
Fires of Rubicon is the first Armored Core game since 2013's Verdict Day, and in that time FromSoftware has exploded onto the scene as one of the most acclaimed developers in the industry, due to the overwhelming success of the Souls series. The studio has essentially been responsible for the creation of an entirely new genre since the last Armored Core, and that's an idea that ties right into the core design philosophy of ACVI.
If you've never played an Armored Core before, just like the rest of the series ACVI is a high-intensity mech combat game that puts a big emphasis on loadouts and customization. Your Armored Core can equip four weapons at any time, one on each hand and shoulder, and there are a wealth of other customizable parts that can alter your mech's defense, boost speed, energy output, and more.
The complexity the series has always been known for hasn't been watered down at all but rather fused with the thoughtfully intentioned combat and boss design of the Souls games. The major thing to wrap your head around here is the emphasis on verticality, with your mech being able to rocket boost around in virtually any direction you want. Very quickly it becomes apparent that boosting and dodging is at the very core of ACVI, requiring you to learn how to effectively use each of your weapons while doing so.
Unlike the Souls series, ACVI returns to a mission-based structure, and the first chapter is split into nine missions, interspersed with a handful of training tutorials and arena battles, where you face another AC in single combat.
Our demo time presented three difficult boss battles, all of which took multiple tries to take down. You can obviously edit your loadout to try something different, but ACVI's bosses all have very intentional designs, in a very Souls-y way. In Souls games the experience is all about learning a boss' moveset and recognizing patterns, piecing together what works across multiple tries until you, as the player, have finally learned and grown enough.
That same idea is directly applied to Armored Core. One boss required me to play more defensively and learn how to get around and above to pelt it with shots and missiles. Another required a much more aggressive take, as I had to get in close and drop its shield to cause any damage.
In this sense it feels like From is providing gameplay styles that can appeal to both Armored Core fans and Souls fans, letting the latter dive full-force into customization while the former can learn through experience with one moveset.
"Part of the main approach of making ACVI was to make it more understandable and readable as an action game," says director Masaru Yamamura "We wanted to focus on letting the player understand what's going on on-screen, and be more in control of the action."
The sheer amount of customization options in ACVI is honestly staggering, and even in just a few hours, I tried out over six different builds. There are options for light hit-and-run mechs, heavy tanks that soak up damage, melee-focused builds, aerial fighters, and much more. Mechheads that really want to dig into customization can really do so by fine-tuning the color, amount of wear, and emblems on their mechs. But alternatively, if you'd rather not dive too deep you really can play with, and master, one single build. ACVI is brutally difficult, like every From game, but that sheer variety in playstyle is what might make this one more approachable.
The other remarkable change with ACVI comes with its mission structure and narrative, both of which I left incredibly intrigued by. This is clearly the most narratively ambitious Armored Core game, done with the trademark restrained style of From.
Early on there are already some fascinating anti-capitalist themes, with corrupt corporations violently putting down anyone that opposes them. The way you tie into this is as a free-operation mercenary, taking on jobs offered by the corps. Everything is presented in a mission briefing style heavy on dialogue, but it weaves in some of the storytelling elements that Souls fans might be more familiar wih5t.
"Within that traditional framework there are these more fragmented elements that fans of our recent games might be more familiar with," says Yamamura "You can find these AC wrecks out in the field if you do a little bit of exploration, and pick up this archive data that you can browse and sort of piece together elements of the protagonist's past, or the going on in the world before your arrival."
At the same time, ACVI's first chapter has fantastic mission variety that really helps the whole thing flow well, and stay interesting. There's the aforementioned mission that had me rocketing up the side of a massive resource collector and destroying cores, bringing it down in a fiery blaze. Another had me fighting the clock to collect archive data before an enemy army arrived, while yet another had me fighting alongside two allies to take down gun installations. It's clear From has put a ton of thought into gameplay variety, and it's even more remarkable when you factor in how different builds might play into that.
After four hours my time with ACVI felt like nothing more than an appetizer, and I'm chomping at the bit to get my hands on more. There's a fascinating vision at the center of this game that unites two disparate design philosophies in an incredible way and one that can appeal to a multitude of players.
From has created some of the most mechanically-rich games ever in recent years, and it's abundantly clear that this grand return for Armored Core wants to be different, both from past AC games and Souls alike. It already seems like Armored Core VI is poised to remind us, yet again, why From has become such a household name.
Armored Core VI: Fires of Rubicon launches August 25 for PlayStation, Xbox, and PC.