A New Push to Unionize Activision Blizzard Has Already Begun
"Our organizers are following up with workers who have expressed interest in forming a union," the Communications Workers of America tells Inverse.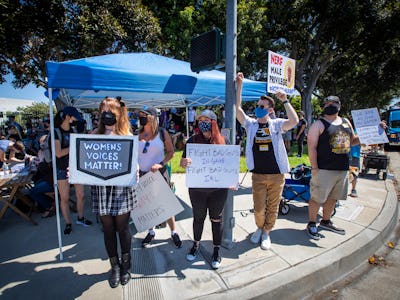 Allen J. Schaben/Los Angeles Times/Getty Images
The games industry is unstable at the best of times, and the trend toward corporate consolidation has only made it harder to get and keep a job. Even for workers who avoid the staggeringly frequent layoffs, conditions at studios of all sizes can be hostile if not outright abusive, as reports and lawsuits have shown us in recent years.
Some of the most high-profile controversies have centered on Activision Blizzard, including a still-ongoing lawsuit alleging a widespread culture of sexual harassment and abuse. But now that Activision Blizzard has been acquired by Microsoft, workers there are covered by a labor neutrality agreement that prevents management from interfering with attempts to unionize — and work is already underway to start organizing them.
Beth Allen, the communications director for Communications Workers of America, tells Inverse that the media labor union has already reached out to some Activision Blizzard employees.
"Our organizers are following up with workers who have expressed interest in forming a union to let them know about the neutrality agreement and help them form organizing committees at their workplaces," Allen.
As its acquisition of Activision Blizzard was finalized, the tech giant reiterated the terms of its agreement with the CWA, writing in a blog post, "Microsoft remains steadfast in our support of our current and future employees in whatever choice they make about their workplace and their representatives."
The CWA, under which Activision Blizzard's existing unions at Raven Software and Blizzard Albany organized, also put out the message on social media to reach workers now covered by the agreement. A form on the union's website lets interested employees get in touch with the CWA themselves. This process for getting more unions off the ground is actually protected by the labor neutrality agreement, which provides for a "technology-supported and streamlined process for choosing whether to join a union."
As for what the future of those unions at Activision Blizzard will look like, that's up to the workers themselves.
"This is an entirely new process, and we will be engaging with the workers to determine what is in their best interests moving forward," Allen says.
Unionizing at Activision Blizzard has been an uphill battle, according to reports. The National Labor Relations Board has issued complaints against the company for allegedly threatening employees who spoke out about working conditions online and for withholding raises from workers who sought to form unions. Microsoft's labor neutrality agreement could make the bargaining process easier for workers who are already in unions just as much as it helps those seeking to form new units.
"Two existing ABK units are currently bargaining contracts, as is the ZeniMax unit at Microsoft. Microsoft now assumes responsibility for all three sets of negotiations," Allen says.
More than 10,000 Activision Blizzard workers are now eligible to form unions under the protection of Microsoft's agreement, joining the unions at Raven, Blizzard Albany, and ZeniMax. With one of the biggest roadblocks to unionization now out of the way, they have the opportunity to turn what was once seen as one of the most toxic workplaces in gaming into one with the largest union presence in the industry.
Activision Blizzard's reported hostility to unions might make such a sweeping change sound unlikely, but as Allen reiterates, Microsoft's labor neutrality agreement is legally binding. If conflicts do come up between the union and the company that they can't reconcile, the agreement also provides for an expedited arbitration process.
As a statement from CWA President Claude Cummings Jr. puts it: "It is a new day for workers at Activision Blizzard."
Update 10/30/2023: An Activision Blizzard spokesperson provided Inverse with the following statement: "Activision Blizzard is aligned with Microsoft's neutrality agreement. We have always been committed to creating a welcoming and inclusive workplace, and we look forward to a shared approach to labor as part of Microsoft."