Blizzard could drop big news about three of its best-loved franchises very soon
A few time slots for Blizzcon 2019 are suspiciously empty.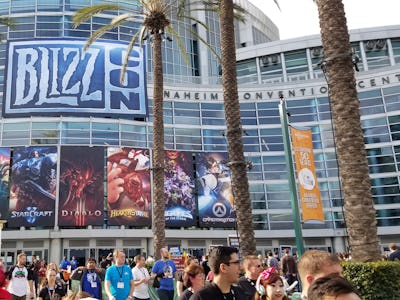 Randy Miramontez / Shutterstock.com
Blizzard fans don't have a lot longer to wait for Blizzcon 2019. The yearly Anaheim, California games expo will kick off on November 1 and will bring with it a marathon of esports tournaments, eye-popping cosplay, and likely a few long-awaited announcements.
The schedule for the three-day conference was published earlier this week confirming that opening ceremonies will commence at 2 p.m. Eastern. But amongst all of the anticipated presentations, Blizzard teased what could be nearly four hours of surprise reveals.
Following the opening ceremony on the main stage, there will be four 45-minute panels that Blizzard is keeping secret. The back-to-back events are all titled "Coming Soon!" and with only a week left before the thirteenth Blizzcon begins it seems that Blizzard will keep its mouth shut until November 1.
But reports, leaks, and rumors leading up the Blizzcon 2019 have given gamers a pretty good idea of what to expect:
Diablo 4 is pretty much a shoo-in
A new installment for Blizzard's long-standing dungeon crawler series Diablo is almost certainly in the playbook.
The most recent issue of German magazine GameStar included an advertisement for an upcoming "The Art of Diablo" book, which mentioned the unannounced Diablo 4. The collection of concept art is available for pre-order on Amazon and is set to be release on November 3, the same day BlizzCon 2019 ends.
That launch date is dead giveaway that Diablo 4 will likely be revealed during Blizzcon 2019 and its artwork will sold as a collectors item for diehard fans. Plus, Blizzard has a lot to make up for after last year's disastrous Diablo Immortal announcement. Its been seven years since the release of Diablo 3 so a brand-new game could once again rile up the franchise's fan base.
Overwatch 2 is widely expected to make its debut
Blizzard's team-based shooter Overwatch seems to be ready for its next chapter and Blizzcon 2019 might be the grounds for its unveiling.
Overwatch 2 (or whatever it will eventually be titled) has yet to be confirmed by Blizzard. But a two Blizzard staffers told Kotaku in June that development of the sequel has become the primary focus of the company's development resources. The report also stated that the company plans on announcing it at Blizzcon 2019.
That timeline was then echoed by SunTrust Robinson Humphrey analyst Matthew Thornton told financial news publisher Barron's on August 30 that he's confident Blizzard will tease Overwatch 2 at the expo.
"There is a lot in the pipeline coming off a rebased 2019 year—including some very big intellectual property in the next couple years," he said, referring to the unconfirmed titles.
Overwatch 2 will reportedly come with a "large PvE" element, as opposed to the current game, which is heavily focused on six-versus-six online player matches. It has been compared to the zombie survival shooter Left 4 Dead.
It's still unclear how Blizzard will make an Overwatch sequel a premium title. Will it include a whole new roster of heroes? Will it be built on a completely new engine? Will there be a whole new set of maps?
All of these questions will hopefully be answered come November 1.
Starcraft 3 is possible, but unlikely
Fans of Blizzard's intergalactic real-time strategy series Starcraft have recently been sniffing around online for any hints of a potential Starcraft 3 announcement . While it has been nine years since the release of Starcraft 2, a completely new game seems unlikely.
Starcraft is one of Blizzard's most sizable esports investments and it has recently bounced back from a period of stagnant viewership. The 2017 introduction of War Chests (the franchise's version of Battle Passes) made it so Blizzard could keep the game free-to-play while funding its professional scene and attract sponsorships.
Blizzard has also consistently appeasws fans with smaller DLC content drops. It released StarCraft II: Nova Covert Ops in 2016 and a remastered version of the original Starcraft in 2017.
There was a 12-year gap between the first Starcraft and Starcraft 2, and seeing how much work Blizzard put into revitalizing the pro scene of the sequel, it's unlikely they'll start from scratch. A new DLC is far more likely.
Blizzcon 2019 starts on November 1 and will last until November 3.