Zack Snyder's Secret Plan for a Flash Trilogy and Surprise Supervillain, Revealed
"It was Professor Zoom pulling the strings because he had come from the future to basically f*ck with Barry," Jay Oliva tells Inverse.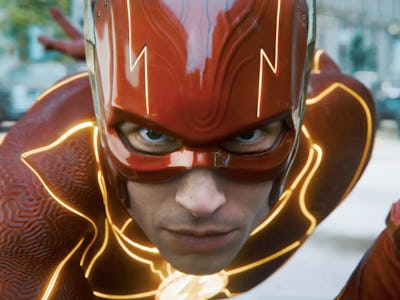 Warner Bros.
The DC Extended Universe is full of missed opportunities. Some, like Zack Snyder's original vision for 2017's Justice League, were eventually realized. But most will remain unfulfilled as the DCEU reboots itself into the DCU under the guidance of James Gunn. However, none of those missed opportunities is quite as disappointing as the fate of The Flash, which finally arrived after years of delays only to flop hard with fans and critics alike.
It didn't have to be that way. And perhaps no one knows that better than Jay Oliva, a storyboard artist on several DCEU movies who also directed the acclaimed DC animated film Flashpoint Paradox.
"When we were doing Zack Snyder's Justice League, I was instrumental in talking to those guys about how Flash was going to be and everything," Oliva tells Inverse.
In a conversation timed to the 10th anniversary of Flashpoint Paradox, Oliva reveals the studio's original plan for an entire Flash trilogy leading up to a Flashpoint crossover, along with the surprise Flash villain who would have been pulling the strings all along across the entire DCEU.
After directing Flashpoint Paradox, Oliva worked as a storyboard artist for the first four seasons of The CW's The Flash, crafting most of the show's action scenes. So when Warner Bros. decided to make a live-action Flash movie, Oliva was involved right from the start.
"I worked with Seth Grahame-Smith, the first director who was attached to The Flash," Oliva says. "I did a storyboard for him. I did that test. I don't think I ever saw it, but it got the green light for the movie."
When Grahame-Smith left the project in 2016 over "creative differences," Oliva stuck around and Rick Famuyiwa came aboard as the new director.
"I worked with Rick for like six or seven months on that Flash movie, right up until Rick left [in October 2017]," Oliva says. "The cast was in London. They were building sets. When Rick left, I switched gears and did the reshoots for the ending of Wonder Woman."
While little is known about Famuyiwa's canceled Flash movie (the cast at times included Ray Fisher's Cyborg and Gal Gadot's Wonder Woman), one thing is clear: it was nothing like the movie released in 2023.
"Rick's movie wasn't the Flashpoint movie," Oliva says, before detouring into a brief DCEU history lesson. "Originally, there was supposed to be just Zack's five films and one side movie, which ended up being Suicide Squad." But after the success of Man of Steel, Warner decided to go all in on its cinematic universe. "Rick's movie was going to be a series of films, just like Aquaman. I think all of those films, they were planning to be trilogies."
The Flash movies would have been particularly important to the DCEU, however, because of a plan to introduce a classic DC villain: Eobard Thawne (aka, Professor Zoom or Reverse-Flash).
"Rick's movie was laying the groundwork for Zoom as the big baddy of the DC Universe," Oliva says. "It was Professor Zoom pulling the strings because he had come from the future to basically f*ck with Barry. In the Flash movies, Zoom would be the villain in the background. But also in the ancillary other films, you would see some of the influences of Zoom on the rest of the Justice League."
This all would have come to a head in a Flashpoint movie, which Zack Snyder revealed previously at a 2019 fan screening would have wrapped up his Superman-focused saga and served as a reboot for the entire franchise.
"At the ending of Zack's Darkseid quadrilogy, or whatever, we would end up with a Justice League Unlimited version of the Snyder-verse," Oliva says, referencing the popular 2000s cartoon that featured a sprawling roster of DC superheroes. "And then you flip it. You do Flashpoint Paradox. Everybody who's friends are now enemies, and it's a world that you don't want to live in. You can reboot the universe and introduce a new cast that way. Because after 10 years, the actors need to go onto something else."
For Oliva, that planned Flashpoint movie was also a chance to bring his original animated film to life, complete with its epic, world-destroying conflict between the Amazons and the Atlanteans. (In both the comic and the cartoon, the story hinges on a fatal love triangle involving Aquaman and Wonder Woman.)
"I wanted to really capture the grimness of the comic, but also lay the groundwork for adapting this as if it was a Marvel live-action film," he says of his 2013 animated film. "I just thought that would've been fantastic. Can you imagine Jason Momoa fighting Gal Gadot and then having that love story?"
"All of the missed opportunities," Oliva concludes, with a hint of whimsy. "Being a part of it was so exciting, and then having to shift gears and pivot. It's kind of sad. I would've loved to have seen it get to this point."