Zack Snyder Says Justice League 2 Would've Solved the Snyderverse's Biggest Plot Hole
The Flash's cameo in Batman v Superman finally has more context.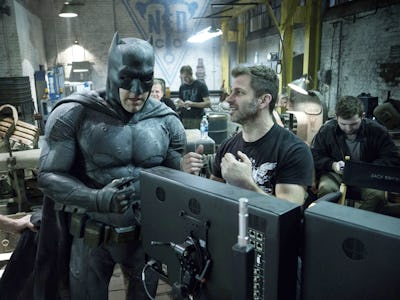 Warner Bros/Dc Comics/Kobal/Shutterstock
It's been seven years since Zack Snyder unleashed Batman v Superman: Dawn of Justice, a messy superhero epic with an auteur vision and operatic take on superhero mythology, but there are still scenes that leave audiences scratching their heads. Specifically, Ezra Miller's cameo as the Flash, where Barry warns Bruce Wayne (Ben Affleck) about a future version of Superman, has confused even DC die-hards.
While Snyder has discussed the scene before, the director revealed in a recent live Q&A how a Justice League sequel would have explained everything, along with a jaw-dropping revelation about who would have been the father of Lois Lane's baby.
At a recent marathon charity screening of Snyder's DC films, dubbed SnyderCon, Snyder participated in a post-screening Q&A of Dawn of Justice where a fan asked if audiences were meant to see "the other side" of the Flash's scene, meaning the context of why and how a future Flash goes back in time to warn Bruce Wayne. Snyder replied:
"Absolutely. Yeah. The idea was, in whatever Justice League that would have been, Justice League 2 I guess, there was a scene where they were getting ready, Flash was getting ready to go back in time. The idea was, Bruce said to him that there were two possible windows in which he could jump back through time. And Bruce said, 'Which one would you have gone through if I didn't say anything?' And he said, 'Well, we were gonna go through this one.' And he said, 'Don't go through that one! You went through it and it didn't work! So go through the other one!' So you would have seen that. He would have gone to the correct moment."
Panel moderator Sean O'Connell of CinemaBlend added that Barry would need to say something to Bruce to confirm his presence is legitimate, prompting Synder to add, "Which at the time was, in the other reality, that Lois Lane's child was his. That's what he told Bruce to make him believe he was really from the future."
Snyder has talked about this moment before. In 2020, he said the Flash is there to warn Bruce not to kill Lois Lane, which is strange; Bruce and Lois don't share a scene until the climax, when Batman is close to killing Superman with a Kryptonite spear.
The revelation that Bruce and Lois Lane (Amy Adams) would have a baby together in an alternate future isn't new either. It was previously snooped out by fans, though Snyder spent most of 2021 — the year his "SnyderCut" was released — telling outlets like Vanity Fair that Lois' baby would have been Clark's, but would have grown up training under Batgirl to become the next Batman. Now, Snyder is discussing alternate plans for Lois and Bruce to have a child together instead.
Because of the multiple timelines Snyder wanted to explore in his DC movies, all of these possibilities may be true. But as it stands with just three DC movies from Snyder, the totality of his vision remains befuddling and incomplete. With James Gunn rebooting the DC universe, it may stay that way forever.