Will There Be An Ahsoka Season 2? There's Evidence Towards Renewal
Will we go back to the galaxy further away?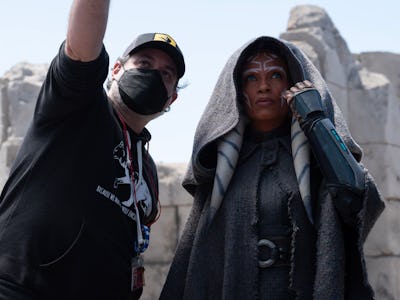 Lucasfilm
Episode 8 of Ahsoka may have answered a couple of questions, but it was by no means a self-contained story. In the Mandoverse, this could mean anything: we could catch up with Ahsoka in The Mandalorian or even another spinoff. But with the sheer amount of characters left unresolved — and the fact Ahsoka and Sabine are stranded in a completely different galaxy — fans are wondering if Ahsoka has another season's worth of stories to tell.
While nothing is certain yet, here's all the evidence we have for Ahsoka getting a Season 2, and when we could possibly expect it.
Is Ahsoka Renewed for Season 2?
In the immediate wake of Season 1 wrapping up, there's no word as to whether or not the series will be a multi-season story like The Mandalorian or Andor or a one-off like the other Star Wars series.
Loki, which premieres its second season only 48 hours after Ahsoka's finale, was renewed for Season 2 at the tail end of Season 1. This was not the case for Ahsoka, which leaves fans wondering about the show's fate.
Will Ahsoka Be Renewed?
While there's still no official word, Deadline reports that Season 2 is already being discussed by the powers that be at Lucasfilm. "We hear that Ahsoka Season 2 is more of a reality in the conversation, but nothing is locked yet," the report says.
As of now, this is the only clue we have towards a Season 2 renewal, but it's enough to get our hopes up.
When Would Ahsoka Season 2 Release?
It's hard to speculate on the release of a show like Ahsoka because the precedents are all over the place. Ahsoka Season 1 was announced in December 2020, fresh from her appearance in The Mandalorian Season 2, but didn't release until more than two years later. Looking at The Mandalorian isn't much help either: while there was only a year between Seasons 1 and 2, there were two years between Seasons 2 and 3.
In these situations, it's probably best to plan for the worst-case scenario: if Ahsoka is renewed soon, a second season would probably hit Disney+ around 2025. It's a long time to wait, but there are plenty of other Star Wars shows to get excited about in the meantime.
Ahsoka is now streaming on Disney+.