Who Is X-5? Loki Executive Producer Explains the Show's "Antagonistic" New Character
He came out of nowhere, but he serves an important purpose.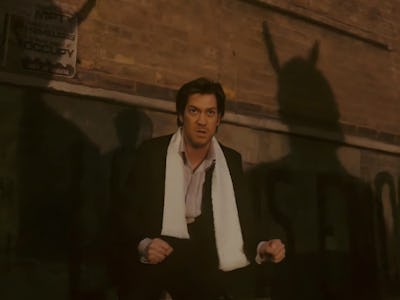 Marvel Studios
Warning: Spoilers for Loki Season 2 Episode 1 follow!
The world of Loki has completely changed in Season 2. The TVA may be still standing, but that might not be for long considering Loki's "time-slipping" and O.B.'s warnings that the Time Loom is on its last legs with the uncontrolled timeline branches.
But one of the most surprising changes to the TVA is the introduction of the new hunter X-5. No, you're not mistaken — X-5 is a completely new character, played by Rafael Casal (Blindspotting). In the first episode of Loki Season 2, he's recognized by Mobius (Owen Wilson) as one of the hunters who sided alongside Renslayer in her betrayal — which immediately sets an antagonistic relationship between X-5 and our heroes.
But just why was he written into the narrative? And was he really around the whole time? We asked Kevin Wright, executive producer of Loki Season 2, why X-5 was a necessary addition.
Like most things in the MCU, X-5 can be traced back to Kevin Feige. "Coming out of Season 1, Kevin Feige gave us very few notes on what he wanted to see," Wright tells Inverse. "He said, 'I want to see more of the TVA, there's got to be more people in there.'" Hence, new TVA members like Dox and X-5. "In a story that is so much about not wanting people to be purely heroes or villains, where everyone has a truth that's somewhere in the gray, we needed somebody at the TVA who could feel intrigued by a life on the timeline," Wright says.
But X-5 has a bigger narrative purpose than just proving that the variants may want to actually leave the TVA even if Mobius doesn't want to. In a way, X-5 is the foil to Loki, showing all the self-interest that Loki has grown out of in the decade since we first met him.
"He acts as an annoying antagonistic force for our team," Wright says. "I think that was something that Rafael himself started to develop in a fun way. He identified, 'I get to be what Loki has been for 10 years of movies in this.' The guy that's provoking, but also not wrong."
X-5 shows up with little fanfare, just Mobius saying "We don't see you here very often," but he's proven himself the perfect addition to the series in the few glances we have. He provides the mischief and chaos that a Loki series needs while he's trying to save time itself and preserve honor.
Loki is now streaming on Disney+.