Westworld season 3 release date, trailer, and cast for HBO's twistiest sci-fi series
A revolution is brewing as machine faces off against man. Here's everything we know.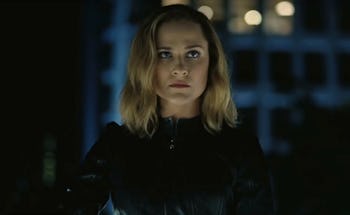 This article about Season 3 of Westworld was originally published on January 13, 2020 and updated on July 17, 2021 following the release of the season on HBO. Read on for the original article, with some new changes to reflect the latest updates on this topic.
After a two-year hiatus, Westworld Season 3 has returned to HBO. Westworld Season 2 ended on a major cliffhanger as several Hosts, including Dolores (Evan Rachel Wood), escaped the park and made it into a futuristic version of the real world in the late 2050s or early 2060s. Now they face down a world full of characters, including a new face played by Breaking Bad's Aaron Paul.
Westworld Season 3 promises lots of intrigue, a deeper dive into the world of humans and Hosts, more philosophical discussions about the nature of reality and what it means to be human. Here's everything to know about Season 3.
When is the Westworld Season 3 release date?
March 15, 2020! HBO announced the news with a new trailer that offers our first timeline of how the story of Westworld gets from our modern-day society to the one portrayed on the show. In short: It's not pretty.
The trailer describes something called a "Divergence" beginning with the real-life Hong Kong protests and President Trump's impeachment and leading up to a presidential assassination, ecological and thermonuclear disasters, and a second Russian civil war. The world is stabilized in the year 2039 with the creation of a mysterious "system," but that system is disrupted in the show's present-day with the introduction of Hosts that escape Delos Parks.
How many episodes did Westworld Season 3 have?
Unlike Seasons 1 and 2, Westworld Season 3 ran for just eight episodes (down from the usual 10).
Who's returned to the cast of Westworld Season 3?
The cast members from Westworld returning for Season 3 include:
Evan Rachel Wood as "Dolores Abernathy"
Thandiwe Newton as "Maeve Millay"
Jeffrey Wright as "Bernard Lowe"
Tessa Thompson as "Charlotte Hale" (and a modern version of Dolores)
Ed Harris as "William"
Additionally, Luke Hemsworth (Ashley Stubbs), Simon Quarterman (Lee Sizemore), and Angela Sarafayan (Clementine Pennyfeather) made appearances throughout the season. They are listed as part of the main cast but only appeared in small roles compared to the previous two seasons.
Is there a trailer for Westworld Season 3 yet?
There are several! The first from May 2019, which focused on Aaron Paul's new character and revealed the real world of Westworld's future, is viewable below.
Aaron Paul is a maintenance worker by day and a criminal by night in what looks like the real world outside of Delos' many theme parks. His character laments the failed promises made to him and others with the technological advances of the future, with scenes of him eating a lonely lunch next to a robot while on the job, visiting his mother in a hospital, and pulling off what might be a robbery with the rest of his crew. We also catch glimpses of Dolores, now in modern clothing and with an updated haircut.
A second trailer released during San Diego Comic-Con 2019 also offered a look at another Delos park, this one inspired by Nazi-occupied France during World War II.
‌
In November 2019, another teaser was released. This time, fans were treated to a preview of a tech company called Incite, Inc. The company's mission statement is vague, essentially branding itself as a company with a hand in everything from tech to personal wellness, making it all the shadier.
Then, in February 2020, HBO released a ton of new and exciting trailers, beginning with the official Season 3 trailer. You can check that out below.
Did any new actors join the Westworld cast for Season 3?
Yes! As mentioned above, Aaron Paul joined the main cast as Caleb Nichols, a former soldier trying to eke out a living as a construction worker and petty criminal. He was joined by Ready Player One and Master of None star Lena Waithe, who played Ash, one of Caleb's criminal confidantes.
In April 2019, Deadline reported that Vincent Cassel had been cast in Season 3. He ended up playing Engerraund Serac, the main villain of the season and co-partner of Incite. Additionally, rapper/actor Kid Cudi and football player Marshawn Lynch made appearances as an inmate and another criminal collaborator, respectively.
What's the plot for Westworld Season 3?
Previously, spoilers about Season 3 from series creators Jonathan Nolan and Lisa Joy gave us our first clues about what to expect from the season.
A June 2018 interview Joy did with The Hollywood Reporter contains hints about what's next for Dolores and Charlotte, who both escaped Westworld. At the end of Season 2, Dolores uploaded her consciousness into a Host version of Charlotte. This allowed the Host version of Charlotte/Dolores to escape Westworld as the park was being evacuated, and we saw her set up shop in Westworld park creator Arnold's old home with the intention that she would begin creating new hosts. She also mentioned the state of the world:
The world is dramatically different. Quite destroyed, as it were. A figure in the image of his daughter — his daughter is of course now long dead — has come back to talk to him. He realizes that he's been living this loop again and again and again. The primal loop that we've seen this season, they've been repeating, testing every time for what they call "fidelity," or perhaps a deviation. You get the sense that the testing will continue. It's teasing for us another temporal realm that one day we're working toward, and one day will see a little bit more of, and how they get to that place, and what they're testing for.
Indeed, Westworld Season 3 widens the scope of the series to the outside world. Dolores moves forward with her plan, traveling the world to get closer to the people behind Incite and mysterious "Rehoboam" artificial intelligence. She's assisted by Caleb, who is looking to find some purpose in his life. Bernard, meanwhile, is on their tail, taking him in and out of the park. Maeve also makes her way outside and gears up her allies to take down Dolores. And finally, William winds up in a surprising place, where he's meant to reconcile his nefarious deeds finally.
Will there be a Westworld Season 4?
Yes! Westworld was renewed for Season 4 in April 2020, before the third season even finished. The season is currently in production, and sources inside HBO have speculated it would air in May 2022. Jonathan Nolan and Lisa Joy confirmed that Dolores would not be returning to the series, though it's very likely Evan Rachel Wood could continue as a different character.
Westworld Seasons 1-3 are currently streaming on HBO Max.
This article was originally published on