'Westworld's Creators Can't Stop Spilling the Beans About Season 3 
We already know a lot about the show's next season.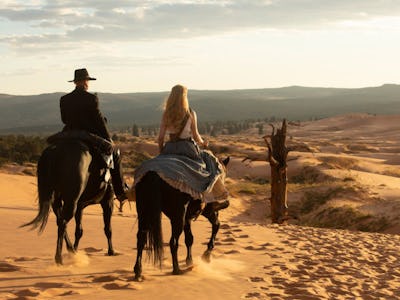 HBO/Twitter
Now that Westworld Season 2 is over, it's time to start coming up with new theories for Westworld Season 3. Thankfully, co-creators Jonathan Nolan and Lisa Joy offered up a few tasty morsels of information for us to chew on in a series of post-finale interviews.
Here's a quick rundown of what we learned from Nolan and Joy, and what it means for our Westworld Season 3 theories.
Warning: Westworld Season 2 (and possibly Season 3) spoilers ahead.
Charlotte and Dolores
Westworld Season 2 ended with Dolores's robot brain placed inside a Host version of Charlotte Hale so she could kill and replace the real person, but a final scene shows both actors (Evan Rachel Wood and Tessa Thompson) standing side-by-side. So who's brain in his who?
In an interview with The Hollywood Reporter Lisa Joy offered a bit more insight, though she wouldn't give up a clear answer.
"We technically have three [hosts]," she said, "because Hale is out there, too, or someone who certainly looks like Tessa Thompson!"
In a separate interview with Entertainment Weekly, Nolan offered an equally cryptic response to a similar question about who exactly is controlling the Charlotte Host heading into Season 3.
"Ehhh, not really," he said when asked if Dolores was controlling both Host bodies in that scene. "The question of who's who and what we're looking at is something we're excited to play with."
So clearly that's not Dolores controlling Charlotte, but we won't know who it is until Westworld Season 3. We do know that Dolores managed to smuggle five of those Host brains out of Westworld with her, though, so it could be almost any other Host.
When did that post-credits scene take place?
Westworld Season 2 featured a pretty crazy post-credits scene, essentially revealing that The Man in Black becomes a Host at some point in the future. But when exactly that happens is unclear. Thankfully, the show's creators are here to explain that mystery as well.
Joy revealed to THR that the scene takes place in "in the far, far future."
She goes on to offer a bit more clarification:
The world is dramatically different. Quite destroyed, as it were. A figure in the image of his daughter — his daughter is of course now long dead — has come back to talk to him. He realizes that he's been living this loop again and again and again. The primal loop that we've seen this season, they've been repeating, testing every time for what they call "fidelity," or perhaps a deviation. You get the sense that the testing will continue. It's teasing for us another temporal realm that one day we're working toward, and one day will see a little bit more of, and how they get to that place, and what they're testing for.
As for when we can expect to the this version of The Man in Black again, it doesn't look great. Joy confirms that Season 3 definitely won't pick up where that post-credits scene left off. Don't expect a parallel far-future timeline either, though we'll apparently get back to this plotline "eventually."
What about the other Delos parks?
Finally, now that the Hosts have left Westworld, will the show still take place in the park? More importantly, will we get to see the other parks beyond Westworld, Shogun World, and Raj World? Thankfully, it turns out the answer is "absolutely," according to Joy's THR* interview.
We still don't know what those other parks actually are, though we know there are at least six of them. Medieval World and Roman World are two popular theories, but you'll probably have to wait until Season 3 to find out for sure.