'Westworld' Season 3 Reportedly Adds Aaron Paul as "Series Regular"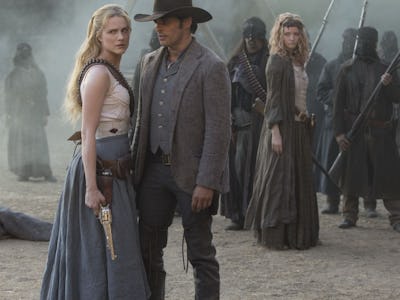 HBO
Westworld Season 3 still doesn't have a release date, though it probably won't happen until at least 2020. But in the meantime, fans of HBO's sci-fi series will be happy to know that another famous actor is joining the cast: Aaron Paul.
Deadline reports the Breaking Bad star is set to join Westworld for Season 3, citing an anonymous source and noting that the show's producers are remaining "tight-lipped." There's no word on what kind of role Aaron Paul will play, but he's reportedly set to be a "series regular."
Paul stars in Netflix's adult animated series BoJack Horseman and Hulu's The Path, but he's best known for Breaking Bad, where he played Jesse Pinkman, made a bunch of meth with Bryan Cranston, and yelled the word "bitch" a lot. If you've never watched Breaking Bad you should probably start now, just in case Paul's role in Westworld Season 3 involves a new Breaking Bad World.
Warning: Westworld Season 2 spoilers ahead.
Of course, that seems pretty unlikely given that Westworld Season 2 ended with all the Host robots ditching the park to escape into a virtual paradise. Meanwhile, Delos, the company that runs everything, is still scrambling to figure out what caused the Host rebellion at end of Season 1, and a handful of robot brains have been smuggled out of the park entirely.
Westworld Season 3 will likely focus on Dolores, Bernard, and a few other Hosts as they struggle to navigate the real world and continue to evolve. At the same time, we'll also hopefully find out what happened to The Man in Black, who may or may not have become a simulation in the post-credits scene from the Season 2 finale.
Sadly, we're still a long ways away from getting any new episodes of Westworld, but with Aaron Paul reportedly joining the cast, maybe more information (or even some set photos) will spill out soon.
Westworld Season 3 has no set release date.