3 Marvel Movies and Shows to Watch Before Ant-Man and the Wasp: Quantumania
If you're not caught up on all 30 Marvel movies, make sure you see just these before hitting up the Quantum Realm.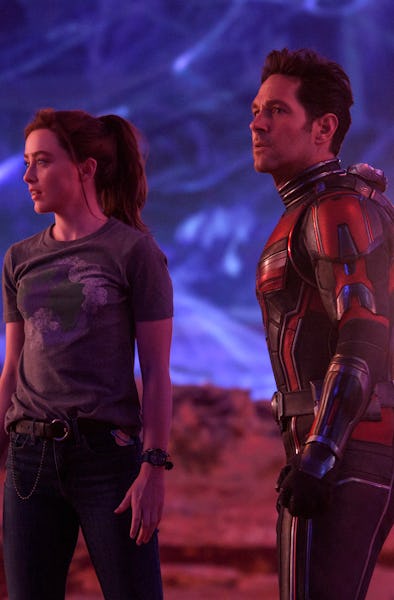 Marvel Studios
Things are about to get macroscopic in the Marvel Cinematic Universe.
Ant-Man and the Wasp: Quantumania is upon us, with its release date of February 17 fast approaching. Once again, the question must be asked: What Marvel movies should I see before it?
The correct answer to this question, every time, is everything. The Marvel Cinematic Universe is a vast, tightly-woven saga in which the earliest echoes of its past can be felt even now. Ideally, you'll have kept up with every single major Marvel release since Iron Man.
But realistically? Ain't nobody got time for that. Whether you're a fan who prefers to pick-and-choose what to watch, or you're simply too busy to keep up with every Marvel release, there's a not insignificant chance you haven't seen all 30 Marvel movies and however many TV shows. (Man, even I've lost count.) But for those demanding efficiency, there is probably only one, maybe two movies — and one Marvel TV show — you must absolutely watch before taking your seat for Ant-Man and the Wasp: Quantumania.
Why you should watch Ant-Man and the Wasp
Paul Rudd made his first appearance in the MCU in 2015's Ant-Man, directed by Peyton Reed. But the two reunited for the direct sequel, 2018's Ant-Man and the Wasp — with Evangeline Lilly donning the suit and powers of the Wasp — and the movie efficiently catches audiences up to speed on both Ant-Man and Scott Lang's second MCU appearance in the 2016 film Captain America: Civil War.
Ant-Man and the Wasp is mostly harmless entertainment with its own strengths and weaknesses. One of those strengths is simply how good of a job it does in making audiences understand the language of Ant-Man's powers, the nuances to his specific corner of the MCU, and the heart-wrenching backstory (of which the rescue of Janet van Dyne is critical) to the Ant-Man powers, involving themes like loss, regret, and second chances.
But the most important thing about Ant-Man and the Wasp, at least in regards to Quantumania, is how it ventures into the acid trip-like Quantum Realm as part of an act two rescue of Janet van Dyne (Michelle Pfeiffer). Quantumania will explore the Quantum Realm in a bigger way, with the team facing off against Jonathan Majors as Kang the Conqueror, an important villain for the MCU these next few years. The next Avengers crossover movie is titled Avengers: The Kang Dynasty, which should give you an idea about his significance.
In fact, Ant-Man and the Wasp contains an Easter egg that all of Quantumania is basically all about. The post-credits tag of Ant-Man and the Wasp ties directly into Avengers: Infinity War, which opened earlier that year, and Avengers: Endgame.
Why you should watch Avengers: Endgame
To a lesser extent, but still important for context, is Avengers: Endgame. The biggest movie of 2019 and still one of the highest-grossing movies of all time, Avengers: Endgame features Paul Rudd's return as Scott in a big way as he is flung back from the Quantum Realm by a stray garage rat. (The true hero of the MCU, really.)
The movie sort of glosses over one of Scott's most emotional moments — reuniting with his now teenage daughter Cassie, played briefly in the film by Emma Fuhrmann — but that story will be further explored in Quantumania. Scott's single biggest motivation in Quantumania is to regain the time he lost to see Cassie grow up. Kang mysteriously promises a way to give Scott that lost time back, though not without strings attached. It's this conflict that brings Scott and Kang head-to-head.
Why you should watch Loki
The Disney+ series starred both Tom Hiddleston and Sophia Di Martino as Loki, two variants of the same character caught in a larger battle over the "Sacred Timeline." We'll refrain from major spoilers, but there are some things to know about the MCU that Loki critically featured.
First, the concept of multiverse variants, or alternate versions of the same characters, were introduced in Loki. Second, the end of Loki (spoilers!) also introduced Jonathan Majors as He Who Remains, one of many versions of Kang fans of the MCU will surely encounter throughout Phase Five.
Majors made his MCU debut in the finale of Loki, in a surprise appearance that caught fans off-guard. Who knows what other surprises lie in store?
Ant-Man and the Wasp: Quantumania will crawl into theaters on February 17.