Marvel's Coming Attractions
Marvel's 2023 lineup can't fix the MCU's biggest problem
It's time to look toward the future.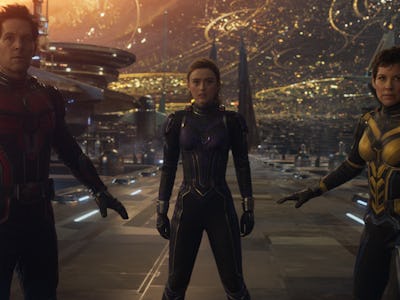 The general consensus among Marvel Cinematic Universe fans seems to be that 2022 was a pretty bad year for Hollywood's most dominant franchise. Despite releasing more projects than it has in any other past year, Marvel Studios' reputation as a creative powerhouse took a major hit last year.
Now that 2022 has come to an end, it's time for fans to start looking ahead at what Marvel has planned for the next 12 months.
The good news is that several of Marvel's upcoming titles already seem incredibly promising. Unfortunately, the studio's 2023 slate also doesn't look like it will actually address or fix one of the biggest ongoing issues that fans have with the MCU's post-Endgame era.
Breaking down Marvel's 2023 slate
Over the course of 2023, Marvel Studios is expected to release, at the very least, three feature films and six seasons of television. The studio's 2023 theatrical lineup includes three sequels, Ant-Man and the Wasp: Quantumania, Guardians of the Galaxy Vol. 3, and The Marvels, while its forthcoming Disney+ slate features a handful of freshman and sophomore seasons of TV, including What If…? Season 2, Loki Season 2, Secret Invasion, Ironheart, Echo, and Agatha: Coven of Chaos.
From a pure quality standpoint, many of those projects already hold more promise than most of the titles that Marvel has released over the course of the past two years. With a cast that includes Samuel L. Jackson, Olivia Colman, Ben Mendelsohn, Emilia Clarke, and Kingsley Ben-Adir, Secret Invasion, in particular, has all the potential to be one of the best Disney+ shows that Marvel has produced. Loki Season 2, Guardians of the Galaxy Vol. 3, and Echo all seem especially promising as well.
However, as exciting as many of the MCU's 2023 entries seem, there's very little that actually appears to connect them all together outside of their shared Marvel brand. That's a major problem, given just how narratively directionless and scattered the MCU has already felt in the years since Avengers: Endgame brought the Infinity Saga to an end in 2019.
At last year's San Diego Comic-Con, Kevin Feige offered some much-needed clarity about the future of the MCU. The Marvel Studios boss announced that Phase 4 of the MCU had kicked off the franchise's latest arc, The Multiverse Saga, which will climax in 2025 and 2026 with the releases of Avengers: The Kang Dynasty and Avengers: Secret Wars. Feige also announced that Black Panther: Wakanda Forever would end Phase 4 of the MCU, while 2024's Thunderbolts will mark the conclusion of Phase 5.
Marvel hasn't offered many details about its Multiverse Saga's story, but the arc is expected to revolve around Kang the Conqueror (Jonathan Majors), a time-traveling warlord with countless alternate selves and plans to take over the entire multiverse. Unfortunately, despite having released a staggeringly high number of films, TV shows, and Disney+ specials since Avengers: Endgame (18, to be exact), Marvel hasn't actually done all that much to set up or progress its Multiverse Saga forward over the course of the past three years.
Upcoming titles like Ant-Man and the Wasp: Quantumania, What If…? Season 2, and Loki Season 2 are all, thankfully, expected to tie back into the MCU's current, overarching multiverse story. However, while The Marvels and Secret Invasion both have the potential to contain surprising ties to the Multiverse Saga as well, very few of Marvel's 2023 titles are expected to actually, meaningfully deal with the MCU's growing multiversal threats. Most of them are, instead, expected to tell their own standalone stories.
The Inverse Analysis — To be totally clear: There's nothing inherently wrong with Marvel choosing to focus more on standalone movies and TV shows as opposed to long, interconnected serialized stories. That kind of approach would, in fact, give the MCU the chance to be a bit more tonally and structurally experimental, but it would also erase the cultural importance of many of Marvel's films and TV shows, which is something the studio spent many years cultivating.
What Marvel cannot do, in other words, is try to split the difference between serialized and episodic storytelling and still expect to maintain the kind of pop cultural dominance it had previously achieved. The problem with Marvel's 2023 slate, therefore, isn't so much the fact that many of its titles feel only thinly connected to each other, but that it doesn't look like they'll actually give fans the sense of overwhelming cohesion nor the totally freeing kind of narrative disconnection that they've been asking for.
There is, of course, a chance that Marvel's 2023 projects will all turn out to be secretly more connected than anyone expects. If that doesn't end up being the case, though, viewers' irritation with the current, loosely connected state of the MCU may only continue to grow over the course of the next 12 months — regardless of how good or bad Marvel's 2023 releases actually turn out to be.