Everything we know about Utopia Season 2
Amazon's gritty sci-fi show is unfortunately not coming back for a second season.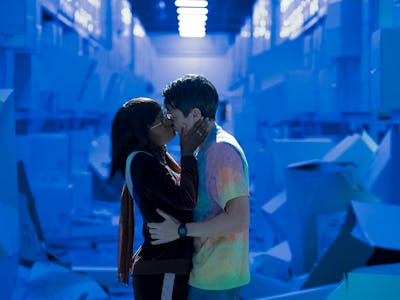 Elizabeth Morris/Amazon
What have you done to earn your place in this crowded world? That's the question John Cusack asks as his character Dr. Christie in the hit Amazon series Utopia about a group of comic book fans who learn there's a grand conspiracy hiding in their favorite graphic novel. The series is an American remake of a cult UK series from 2013 and is produced by Gone Girl and Sharp Objects author Gillian Flynn.
Perhaps now the question is: What have you done to earn Utopia Season 2?
Unfortunately, the answer seems to be "not enough," as Amazon canceled the series after only one season. Here's everything to know, including what the plot of Season 2 may have looked like.
This article about Utopia was originally published on October 8, 2020, and updated on November 2, 2021, following the cancellation of the series. Read on for the original article, with some new changes to reflect the latest updates on this topic.
Has Amazon renewed Utopia for Season 2?
Unfortunately not. In November 2020, two months after Season 1 dropped, Amazon announced that Utopia would not be returning for a second season.
Why did Amazon cancel Utopia?
Amazon was relatively quiet in its announcement of the Utopia cancellation. So the simplest reason we can come up with is low viewership figures. Despite the fact that the streaming service does not release those numbers, Utopia was not met particularly well by critics. So it's possible that mixed reception translated to the audience as well, leading to low ratings for the project that has been in development for a number of years.
What happened at the end of Utopia Season 1?
In short, our heroes all learned the truth of Dr. Kevin Christie's plans, which was — through fake vaccines — sterilize Earth's population for three generations, diminishing the world's population to conserve resources. In the end, our heroes thwarted Christie's plans, but only temporarily. Then end the season all split up, grouped like so:
Grant (Javon Walton) was arrested, having been framed for murder.
Dr. Christie has swayed Wilson (Desmin Borges), who tricks Becky (Ashleigh LaThrop) to ride with them, effectively kidnapping Becky.
Ian (Dany Byrd) and Alice (Farrah Mackenzie) run off together, avoiding the police when Grant was found.
Arby (Christopher Denham) delivers Jessica Hyde (Sasha Lane) to Agent Katherine Milner (Sonja Sohn). Jessica learns Agent Milner isn't actually with Homeland Security but is, in fact, Jessica's mother, who also detains Jessica Hyde in her "childhood" home. Jessica also learns that her father is alive.
Dr. Stearns (Rainn Wilson), riding away in his car, possesses the "mother egg," the last traces of the virus.
And Sam (Jessica Rothe) was killed off way earlier in the season as a surprise stunner.
What would have been the plot of Utopia Season 2?
It's difficult to say where Utopia would have gone next. But in an interview with IndieWire, Gillian Flynn confirmed the series would have moved away from pandemic storylines, likely due to audience fatigue from a real pandemic like COVID-19.
"Personally, I like shows that move on and move forward in general," Flynn said. "Aside from whether I want to deal with the current pandemic [in Season 2], I want the show to move on and go to different objectives."
Utopia is currently streaming on Amazon Prime Video.
This article was originally published on