Utopia review: Amazon's binge-worthy sci-fi mixes comics and conspiracies
Amazon's newest series from Gillian Flynn is an awful lot of fun, even in its uncomfortable validation of fringe conspiracies.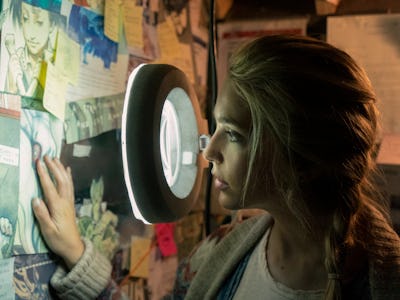 Amazon
A question often asked of the new Amazon series Utopia is this: What have you done to earn your place in this crowded world? It's a clever frame of questioning. It first evokes aww-inspiring answers from happy children before taking on a darker tone when it's later posed to a trained serial killer.
But how does Utopia earn its place in a crowded world of streaming TV? Try plentiful intrigue, engaging characters, dark comedy, and big bursts of violence. Utopia isn't the smartest or sexiest show of 2020, and there are times it is plain junk food for conspiracy theorists. But Utopia is fun, even if its left-turn twists are harsh enough to cause whiplash.
Streaming September 25 on Prime Video, Utopia hails from freshman showrunner Gillian Flynn, ex-TV journalist and author of bestselling novels Gone Girl and Dark Places. Based on a UK series from 2013, the show follows a tight group of comic book fans who learn their favorite comic isn't fiction but real, and that it holds the secrets to the medical conspiracy of the century.
The unraveling of the mythology propels the plot forward, but it's the bond between nerds and their living heroine, Jessica Hyde (Sasha Lane) — who, to our heroes' dismay, is more Punisher than Wonder Woman — makes Utopia your next binge favorite, so long as you have the stomach for it.
Very dark and darkly funny, Utopia is a bumpy, arresting thriller that's more plot-driven and less septic than its British predecessor. This is a good thing. More emotionally charged, its manic cinematography enables stronger immersion into the world than the cerebral original series, which always felt like observing still-life photos in an art exhibit. Amazon's Utopia, on the other hand, plays to streaming's strengths as a bingeable TV show.
Utopia is a remake of another series, but the material suits Gillian Flynn eerily well. As in her novels (in particular her 2009 thriller Dark Places), Utopia presents a fan community who obsess over something in parallel to a darker underbelly. The show opens at a convention, populated with cosplayers and dudes in messenger bags who debate canon. Watch them mansplain to Jessica Rothe's Samantha when she walks within earshot. In a year without Comic-Con, this might inspire a bit of yearning, but under Flynn's direction, it's an unflattering roast on fandom as the faithful live in blissful ignorance to the horrifying realism of their favorite story. Utopia is Flynn at her bravest, pushing her favorite motifs further and on a bigger scale than her books ever dared.
That's not to say Utopia is genius. It is entertainingly stupid, with enough logic holes to feel aerodynamic. In seven episodes provided for review (there are eight in total in the first season), a publisher of the comic is never mentioned. (Someone had to have edited the thing and printed it on paper, right?) In real life, comic book fans worship writers and artists, yet no one bothers to ask about Utopia's creation until several episodes in. We're even made to believe a powerful pharmaceutical company, one that operates a devoted cult, pulls its strings from a drab Holiday Inn conference room. When a new disease spreads, there are protests for a vaccine.
But what Utopia lacks in brains it makes up for in an enthralling story: a cat and mouse game with a villain reminiscent of No Country for Old Men's Anton Chigurh. Arby, played by a balding Christopher Denham, is an oversized child who munches on raisins and delights in violence. He is cold and calculating, and it's a buzz-worthy performance from Denham who is as mesmerizing as he is disturbing. You don't always want to look, but you'll never forget Arby. If Halloween wasn't canceled (by a pandemic; again how fitting), I'd bet my life that costumes of Utopia's villain would be flooding the internet on October 31.
Utopia is a mystery box conspiracy thriller, and talking about its heroes and villains in any detail is a landmine of spoilers. Just know that the hero of the story isn't who you think it is at first. The show's biggest stars, including Cory Michael Smith, Rainn Wilson, and John Cusack, demonstrate range outside their best-known roles. Sasha Lane as Jessica Hyde shines as the show's primary weapon while Happy Death Day star Jessica Rothe as superfan Samantha is criminally underutilized. But Cusack, my man, we've missed you.
No 2020 TV show about pandemics can escape Covid-19. Utopia doesn't ever mention coronavirus strains, though "quarantine" is inescapable. But Utopia does find footing in this cursed year. Conspiracy pushers will find Utopia catnip as the show's similarly sweaty obsessives are rewarded with validation that they are, in fact, right about everything wrong in the world. They might lose an eye over it, but they're right about diseases as planned experiments, about the gullibility of media, about children used as guinea pigs. (Spot the signs that read "Save our children.") Utopia is indeed "the most 2020" show — until the next remotely relevant thing premieres next week.
Wildly bleak and funny when you least expect it, Utopia pulls off its many feats in an addicting binge that is only sometimes too gruesome and maybe too dumb to watch. The only thing coming close to it viscerally is the tenderness shared between its protagonists. It's a cold world that these dorks live in, and an early death in the group stuns in a way that's reminiscent of Ned Stark's beheading. But like a good comic book, you can't help but want to know what happens next.
Utopia will be released on September 25 on Prime Video.