Everything we know about Utopia, Amazon's new genre-bending thriller
Gone Girl meets Black Mirror?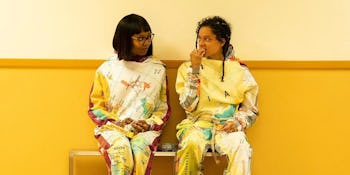 Utopia has taken many forms. The yellow-tinged dark comedy and conspiracy thriller aired on the U.K.'s Channel 4 from 2011-2013. HBO bought the rights for a U.S. remake in 2014, with David Fincher of Gone Girl fame on board to direct. That adaptation floundered, and all hope seemed lost until Amazon bought the rights and brought on another Gone Girl alum, author Gillian Flynn. Now, the series is finally coming to Amazon Prime. Here's what we know so far.
What is the Utopia release date?
Utopia premiered on September 25, 2020.
Who is in the cast of Utopia?
The U.K. version included Sheev Palpatine himself Ian McDiarmid and Game of Thrones alum Rose Leslie. But the U.S. version isn't pulling any punches. Onboard so far are 80s film legend John Cusack, The Office scene-stealer Rainn Wilson, American Honey star Sasha Lane, and Gotham's Riddler, Cory Michael Smith. Other cast members include You're the Worst's Desmin Borges, Happy Death Day's Jessica Rothe, and Watchmen's Dustin Ingram. It's a packed cast of diverse talent, perfect for a hybrid crossover show like this.
Is there a trailer for Utopia?
At the Comic-Con@Home panel on July 24, Amazon released a surprise teaser trailer, depicting a spooky world not too dissimilar from our own, including a viral pandemic, conspiracy theorists, and doomsday preppers. The tone does look decidedly darker from the original source material, but that's to be expected from Gillian Flynn. Watch the trailer below:
What's the plot of Utopia?
Amazon describes the plot as "a twisted, eight-episode thriller about a group of young comic fans who discover the conspiracy in a graphic novel is real, and embark on a high-stakes adventure to save humanity from the end of the world." We got a little more expansion on this in the panel, where Gillian Flynn reflected on her adaptation process, she noted how much she changed from the source material, noting "you have to make it your own, or why bother doing it?"
Also in the panel, the cast went around and explained their characters and a little about the show: the majority of them play a group known as "the nerds" who seek to learn more about this infamous comic book, and as the plot of the show centers around comics, the first two episodes take place at Comic-Con, one where people could actually gather. John Cusack's character Dr. Kevin Christie, in particular, is most interesting as he was an addition by Gillian Flynn, who felt the show needed a "American billionaire influencer who has his own idea of what the Earth should look like."
Utopia will premiere on September 25, 2020.
This article was originally published on