The Symptoms of 'Gone Girl' Still Linger a Year Later
Did Fincher create a new type of villainess?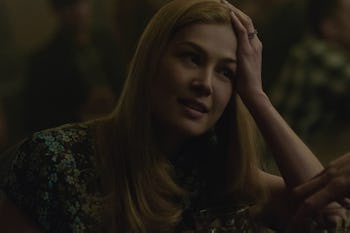 Gone Girl opened a year ago. Carried into theaters on a wave of pre-release hype, it beckoned audiences with the promise of a gripping mystery: Who was this Amazing Amy and what had happened to her?
David Fincher took Gillian Flynn's novel documenting a bleak, manipulative marriage and turned it into a bleak, manipulative movie. Its icy, black heart didn't deter moviegoers. The general public warmed to it. Two weeks after release it had secured a high ranking — 72 — in the IMDB's Top 250. A week later it dropped to 83. That early favor, reflected in its $168 million takehome at the U.S. box office and spurred on by the flurry of intrigue concerning its plot twist, devolved into a debate over time. It's currently sitting pretty at 158 on the list, a still-impressive placement considering how fickle viewers can be.
Critical reception is partly at fault. Rotten Tomatoes' consolidated summary dubs the film "dark, intelligent, and stylish" — three descriptors that reflect my own assessment. Of course, those same modifiers could be applied to any one of the director's works. No movie of Fincher's basks in the glow of a soft lighting design, curries favor by dumbing down cerebral plottings, or rejects style for story.
What sets Gone Girl apart from the likes of Seven and Fight Club however is its vicious resolution: The wool is yanked off in a final wash of sex and death. We never did see Gwyneth Paltrow's head in a box, but we sure got to delight in Neil Patrick Harris's brutal murder. Dark, stylish and, if emotional isolation subs for intelligence, then smart.
But did it matter or was it just a movie?
Anti-heroines, as The Guardian calls them, are on the rise. Women in a downward spiral — seeking revenge or plain ole attention — aren't frequenting more novels than in the past, they're just on everyone's radar. What's the next Gone Girl? blogs and columns ask before listing a number of Flynn-inspired yarns you might enjoy if you liked her 2012 tome. A HuffPost article drops several suggestions in their recent list, all with 'girl' in the title. Paula Hawkins' thriller The Girl On The Train earned the tag of "This year's Gone Girl" after critics astutely drew comparisons between its unhinged narrator Rachel Watson and Gone's similarly unreliable Amy Dunne. Production on the obligatory adaptation is gearing up soon with Emily Blunt, Rebecca Ferguson, and Haley Bennett lined up to tackle three meaty female roles.
And like all important pop culture artifacts, including Fatal Attraction and its bloody prop bunny, Gone Girl has become journalistic shorthand. When reporting on the case of a Harvard graduate indicted for kidnapping, news outlets this week referenced its similarities to the movie dubbing it a "Gone Girl-style" kidnapping. It's hardly a comparison that Flynn or Fincher would welcome, but as a testament to public awareness of an R-rated flick twelve months after its release? Weirdly impressive.