Everything you need to know about Upload Season 2
It's time to return to Lakeview. Here's what we know (so far) about the next season of Amazon's dystopian sci-fi sitcom.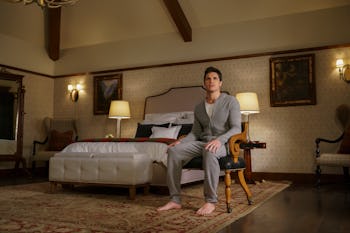 Amazon Studios
It was the glitch streamed around the world.
Upload, the cult hit science-fiction romantic comedy (and murder mystery?) of 2020, is coming back soon for its highly-anticipated Season 2 on Amazon's Prime Video. After viewers were left on a shocking cliffhanger finale, many unanswered questions remain about this not-so-distant future.
Now that it's 2022, it's only a matter of time before fans return to Lakeview. Here's everything we know about the show's return, from possible plot details to its premiere date. Bookmark this page and check back often as we'll update this page with new images, trailers, interview quotes, and more when they're available.
Is Upload renewed for Season 2?
Yes! On May 8, 2020, Amazon Studios confirmed Upload will have a second season and will again stream on Prime Video.
"I am thrilled to continue a great relationship with Amazon Studios and this wonderful cast and find out what happens next to Nora and Nathan and Ingrid and their 2033 world," said series creator Greg Daniels. "With this news I can stop drawing my season 2 flip book."
A premiere date and a plot synopsis were not revealed with the announcement. On March 16, 2020, Amazon Studios paused work on all of its film and TV productions, including its massive (and massively expensive) Lord of the Rings prequel series, due to the COVID-19 pandemic.
On January 25, 2021, Upload began production on Season 2, confirmed by series star Robbie Amell in an Instagram post celebrating "Day 1" of filming. Filming concluded three months later, on April 15.
When is the release date of Upload Season 2?
After months of waiting, Amazon announced that Upload Season 2 would premiere on Friday, March 11, 2022.
What is the story of Upload?
Upload is the newest sci-fi comedy from Greg Daniels, also known for The Office and Parks & Recreation. Set in the near future year of 2033, the show revolves around two people: Nathan (Robbie Amell), a hotshot 27-year-old computer coder who dies under mysterious circumstances; and Nora (Andy Allo), Nathan's tech support in Lakeview, a virtual afterlife owned and operated by tech giant Horizen.
That's right: In the world of Upload, people don't have to die. Instead, their consciousness and memories can be "uploaded" into an afterlife "resort" — if you've got the money to pay for it.
As Nathan (who breaks up with his still-living girlfriend Ingrid, played by Allegra Edwards) and Nora develop a strong bond inside Lakeview, the truth behind Nathan's "accidental" death begins to come to light.
What happened at the end of Upload Season 1?
At the end of Upload Season 1, Nathan downgrades his paid account to the free version of Lakeview, making him into a "Two Gig" — a lower-tier class of residents who can only afford two free gigabytes of data per month.
In the real world, Nora escapes an attempt on her life by a hitman, likely paid for by the same people who killed Nathan. She confesses to a frozen Nathan that she loves him before heading to a remote location where she'll be safe but cut off from technology — and Nathan.
But that's not all. When Ingrid visits Nathan (briefly reawakening him from his freeze), she tells him that she's willingly died to be "uploaded" to Lakeview and be with him. That's the heart and comedy of Upload in a nutshell: The only thing worse than being dead, is being dead with someone you tried to break up with.
Where can I watch the trailer for Upload Season 2?
There is not yet a trailer for Upload Season 2. We should expect to see something a couple of months from when the show returns.
Who is in the cast of Upload Season 2?
The full cast list of Upload Season 2 isn't known. However, we can guess that most, if not all of the main actors of Upload Season 1 will return for the second season. They include:
Robbie Amell (The Flash) as Nathan Brown.
Andy Allo (Chicago Fire) as Nora Antony.
Allegra Edwards (Briarpatch) as Ingrid Kannerman.
Zainab Johnson (Last Comic Standing) as Aleesha, Nora's coworker.
Kevin Bigley (Sirens) as Luke, a former soldier and resident of Lakeview who befriends Nathan.
But there will be an upgrade for one cast member. Josh Banday, who plays Nora and Aleesha's coworker Ivan, has been promoted to the main cast for Season 2.
What is the plot of Upload Season 2?
While Greg Daniels has not commented on the next chapter of Upload, you can expect the series to pick up the story from the Season 1 cliffhanger. Based on Daniels' statement, all we know is that the season will still take place in the year 2033.
In September 2020, Robbie Amell told Comic Book Resources that the season might feature "more of the supporting characters" than last season.
"I think you'll probably get to see a little bit more of the supporting characters this season, which is awesome," Amell said. "I think Zainab [Johnson], Kevin [Bigley] and Allegra [Edwards] are so funny and so talented. I'm excited to see more from them and the show ended on a big moment for a lot of the characters and I'm excited to see where it goes."
Amell added:
"I know we're in good hands and, again, you never know how a show is going to be received and me and the cast are so grateful and excited for all the fans and we've had so much fun sharing the show with them and I still get people finding the show today. We're really excited about Season 2, not just to shoot it but to see it brought to life."
Based on how Season 1 ended, we can guess that Season 2 will involve Nathan dealing with both Nora's confession of love and Ingrid's upload into Lakeview. Caught between his girlfriend and the love of his life, this will make Nathan's afterlife anything but paradise.
The true culprit behind Nathan's "death" also has yet to be revealed. The show's first season is littered with possible suspects, but who is guilty? The Season 1 finale strongly hinted Ingrid's own father ordered the hit, but there are still plenty of details and angles still not known.
Perhaps Nathan's last project when he was among the living could provide a clue. Before his death, Nathan was determined to democratize the expensive "upload" technology. Whatever Nathan was working on would have made uploading more affordable, allowing anyone to be uploaded regardless of wealth and income. As we saw in Upload Season 1, that technology is about to launch (without Nathan's involvement), and it could disrupt Horizen's entire business.
Nathan's new status among the "Two Gigs" could also heighten Upload's undercurrent of class warfare. Will he lead a revolution from the virtual basement of Lakeview? We'll just have to find out.
Upload Season 2 premieres March 11, 2022 on Amazon Prime.
This article was originally published on