Robbie Amell Teases What's Next for Mutant Thriller 'Code 8'
It'll be a $15-million, hard sci-fi flick.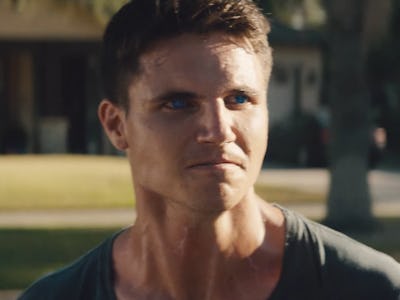 Back in March, cousins Robbie and Stephen Amell posted a short film called Code 8 and began a crowdfunding campaign to finance a feature version of their near-future, sci-fi thriller. The effort was more successful than they could have imagined.
While they initially sought $200,000, their roles on CW shows (Robbie plays Deathstorm on The Flash; Stephen is the Arrow of Arrow) helped them blow past that early goal. By the end of the campaign, they had raised $1.7 million from more than 20,000 backers, providing a considerable launching pad for the feature.
"The short film was more than anything just to prove the world," Robbie Amell told Inverse Saturday while promoting his new film, ARQ, at the Toronto International Film Festival. "The short film Code 8 "was really a world-building short film and a proof of concept to show that people were going to buy into something they would be proud to be a part of."
In other words, it was just the beginning.
"The movie keeps growing," Amell says. "We're now looking at a $14-15 million budget. The Indiegogo did exactly what we needed it to do, which was prove that there was a fan base, develop some interest, and kick off the additional funding."
The universe established in Code 8, which was directed by Jeff Chan, is a sort of mutant dystopia, in which a whopping four percent of people are born with some kind of superhuman power. But instead of forming a gigantic X-Men or Justice League, most are stuck in poverty and forced to resort to lives of crime.
In the short film, Robbie Amell's character has electricity coursing through his body that notably turns him a brilliant cerulean. He runs afoul of the law which is enforced by drone officers:
In 2017, Stephen will use the entirety of his May-July hiatus from Arrow to shoot the film back home in Toronto, which will allow him a much more substantial part. It will also let the Code 8 team — which also includes the actor Sung Kang, who played the human cop in the short — utilize the film crews and VFX professionals who are in Canada year-round.
"The short film is not connected to the movie directly," Robbie explains. "The movie doesn't pick up right after the short or anything. It takes place in the same world with the same characters, but its a stand-alone. Stephen voiced-over the police drone in the short film, but that is not his role in the movie. That was something fun so he could be a part of it." (Stephen was unable to join that production due to his commitment to Teenage Mutant Ninja Turtles 2).
They're looking for about 45 shooting days, and to give the VFX company, Playfight Visual Effects, as much time as they need. At this point, the Amells figure they'll have a finished product in the summer of 2018.
"Ideally, we'd like to knock it out of the park and take the opportunity to make more of them after this, whether it's a sequel or another original idea," Arnell says, noting that tax breaks and government funding in Canada make it easier to afford sizable indie films.
Meanwhile, Arq hits Netflix on Friday. Watch the trailer.