Tomb Raider is Becoming a TV Series — The Last of Us Shows How It's Done
Amazon is pursuing a new Tomb Raider shared universe, signaling a boom in TV shows based on video games that are actually watchable.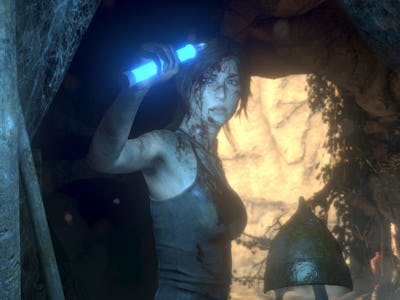 Square Enix
Amid the success of The Last of Us at HBO, Amazon is hunting for a game adaptation of its own: Tomb Raider.
According to The Hollywood Reporter, the online giant has picked up the film and TV rights to the Tomb Raider games. THR reports Amazon is planning a shared universe, all centered around heroine Lara Croft. Fleabag creator Phoebe Waller-Bridge is set to write a series based on the game, though she's not attached to act in it or work on the associated feature film. The project is part of a broader deal between Waller-Bridge and Amazon.
Amazon secured the rights to Tomb Raider in January after MGM (recently acquired by Amazon) lost the rights after it missed the window to make a sequel to the 2018 Tomb Raider, which starred Alicia Vikander. In January 2021, Lovecraft Country writer Misha Green was set to write and direct a new sequel, with Vikander still to star. By 2022 MGM relinquished the rights and Amazon won a bidding war.
Tomb Raider, which debuted in 1996 with the iconic Lara Croft — an adventuring archaeologist remembered for her crop tops and thigh holsters — defined an era of pop culture, spawning two movies starring Angelina Jolie. The series underwent a dramatic reboot in 2013's Tomb Raider, with a more grounded Croft. Two more games followed, and these three titles inspired the 2018 film.
THR describes Amazon's Tomb Raider like Rings of Power, which shows that Amazon is still on a feverish hunt for intellectual property to use as ammo in the streaming wars. Though many have tried and failed to rival Marvel Studios' massive success, Amazon's pockets are deep enough to really go for it.
The pairing of Lara Croft with Waller-Bridge may also prove to be dynamite. Waller-Bridge has established herself as a writer adept at penning thrillers with a human touch, with both Killing Eve and rewrites of No Time to Die in her resume.
The mythology of Lara Croft has been regressive and progressive; she sports both a rounded story rooted in perseverance and a history of gracing gaming magazines in the polygonal nude. While the Vikander film strove to reboot Lara Croft on the surface, Waller-Bridge has shown she has what it takes to fully reimagine Croft for a modern era.
HBO's The Last of Us is showing how video games can properly adapt to TV. While The Last of Us and Tomb Raider are very different games, they both explore the limits of the human condition in dangerous scenarios. It isn't likely Waller-Bridge is tuning into The Last of Us with a notepad on hand, but it is showing how far the envelope can be pushed. Lara Croft may be the one to excavate the next level.