Tom Cruise's Most Villainous Role is Also One of His Greatest
Watch this 2004 thriller before it's inevitably remade with an Uber driver.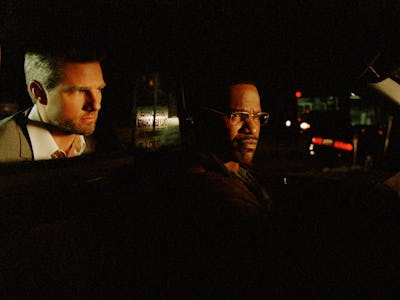 DreamWorks Pictures
Few Hollywood actors have built as impressive of a career as Tom Cruise. One of the world's last great movie stars, Cruise has spent the past 40 years working with some of the greatest filmmakers of his time and cementing his place as one of the entertainment industry's most accomplished stunt performers. While he's dedicated recent years to franchises like Mission: Impossible, Cruise's filmography is a lot more diverse than some moviegoers may think.
No film showcases Cruise's range or charisma as well as Collateral. The Michael Mann-directed thriller has slowly but surely become regarded as one of the best and most interesting movies Cruise has made, and for good reason. Not only is the film one of Mann's most stylistically accomplished genre exercises, but it gives Cruise the rare chance to play a villain. And as anyone who's seen Collateral will attest, he doesn't let the opportunity pass him by.
Those who haven't seen the film are in for a hell of a good time, although you'll need to check it out before it leaves Netflix at the end of October.
Collateral is a classic two-hander. Set in Los Angeles, the film follows Max (Jamie Foxx), a cab driver with big dreams of starting his own limousine business, who finds himself taken hostage by Vincent (Cruise), a ruthless hitman visiting from out of town. When Vincent's first hit of the night goes wrong, he forces Max to drive him around Los Angeles so he can carry out the assassinations he's been hired to commit by a dangerous crime lord (Javier Bardem).
As far as crime plots go, Collateral's is about as straightforward and enticing as it gets. The film is more than just a pulpy thriller about a cab driver who's taken hostage, though. It dutifully delivers all the genre thrills its premise promises, but Collateral is also a more contemplative, atmospheric, and mesmerizing film than it needed to be. Released two years before 2006's Miami Vice, Collateral sees Mann fully commit to the digital aesthetic he first began exploring in 2001's Ali.
The result is both a beautifully grainy, visually noisy portrait of Los Angeles and a nocturnal, moody exploration of guilt, regret, and the ways a person can choose to find their purpose in a world that seems designed to crush them. The further into its runtime it gets, the better Vincent and Max begin to understand each other, and the two actors quietly sell the fascination and mutual respect their characters share. What emerges is a compelling study of two very different men — one haunted by his choices but unable to change, another plagued by years of indecision yet capable of real growth.
As stirring as Foxx's performance and as compelling as Mann's direction may be, it's Cruise who holds Collateral together. Boasting uncharacteristically gray hair and portraying a character far less caring and empathetic than all the heroes he's played, Cruise is the dark soul at the center of Collateral. He brings his trademark gusto to every gunshot and punch, but the real trick of Cruise's performance is how he makes you feel the weight of Vincent and Max's contemplative conversations just as much as he does the film's brutality.
The same can be said for Collateral itself, which effortlessly thrills you in the moment and makes a subtle mark that'll linger for days. As is the case with nearly every film Michael Mann has made, there's more to Collateral than meets the eye.
Collateral is streaming on Netflix until Tuesday, October 31.