The Agony and Ecstasy of the World's Biggest Tom Cruise Impersonator
Evan Ferrante is in the Tom Cruise business, and business is booming. "Busiest and most lucrative year of my adult life," he tells Inverse.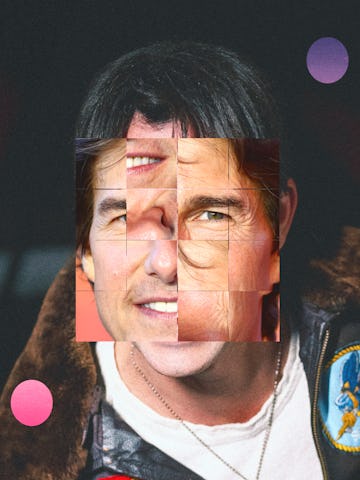 Lais Borges/Inverse; Getty; Photo courtesy of Evan Ferrante
Four years ago, times were tight for Evan Ferrante, an actor and producer who credibly calls himself the "leading Tom Cruise impressionist in the world." His phone wasn't ringing. He had just turned 40 and feared his career spent putting on the Cruise wig and jumping on couches was finally drying up.
"I was still impersonating Cruise, but very seldomly," recalls Ferrante, now 44, whose stage name is "Not Tom Cruise." "I had to take on three other side hustles. I've never worked so much in my life. I was a Lyft driver. I was a dog walker. I was hustling nonstop."
These days, Ferrante's business is still being Tom Cruise — and business is booming. During the first year of the pandemic, he pivoted to Cameo, which kept him and other celeb impersonators afloat. Ferrante was flooded with requests to cheer up bored, quarantined fans on birthdays and holidays — always in character as the Mission: Impossible star — and the response was heartening. (As one of his many five-star reviewers writes, "This was our second awesome video Not Tom Cruise has done for our son who is a military aviator in training. This guy is a total pro!")
Then, in 2022, as the world was opening back up and Ferrante was resuming live event appearances, Top Gun: Maverick sold out theaters and restored Cruise to mainstream prominence. Ferrante couldn't believe his luck.
"There wasn't a day that went by last year that I didn't receive an offer to perform live or in a commercial, film, TV, etc. — all thanks to Top Gun: Maverick," he says. "Busiest and most lucrative year of my adult life."
A brief perusal of his Cameo videos or TikTok channel confirms that Ferrante, clad in dark shades and a Risky Business-style wig, has Cruise down cold (or at least a "heightened version of Cruise," as he calls it). The manic delivery, the choked laugh, the abrupt tonal shifts, and high-pitched "Whoo!" He can shift seamlessly between Top Gun, Jerry Maguire, and other characters, and he can cater his shtick to current events (a recent video shows him visiting the WGA picket line in character as Cruise, riffing on Magnolia).
At events, corporate crowds eat him up. "Many treat me like a dancing monkey or a wind-up doll," Ferrante says. "Many are respectful. A lot of them are just super-pumped to see a Tom Cruise look-alike with them. They want to do all the lines with me. They're very handsy with me."
"People turn and look, and they go, 'Oh, my God, is that Tom Cruise?'" says Colin Paolo, a creative director in the corporate sphere who has hired Ferrante for nearly a dozen events. "These are grown people that will stand in line. I'm never 100 percent sure whether they actually grasp he is an impersonator. I've seen grown men — 6-foot-1, 6-foot-2 — on the phone to their wives saying, 'I'm getting my picture taken with Tom Cruise!'" (Ferrante never aims to deceive anyone, though he says it happens sometimes, especially when he performs overseas.)
Ferrante's flourishing act speaks to Tom Cruise's improbable endurance as a bankable — and perpetually youthful — screen icon now entering the fifth decade of his career, with blockbuster movies like Top Gun: Maverick and the upcoming Mission: Impossible — Dead Reckoning Part One introducing him to new audiences.
It's also reflective of a parasocial, celeb-obsessed culture in which people are hungry for personalized attention from their favorite stars. As A-listers like Cruise become increasingly sequestered and untouchable, doppelgangers such as Ferrante step in to provide the one-on-one connections with fans that neither the real Cruise, nor creepily realistic deepfake simulations, will.
"It's just a fascinating character to explore, Tom Cruise," Ferrante says. "I provide a window into his world, right? It's almost like Mary Poppins with her bags of endless things. I can dip into this bag, and with enough imagination, I can come up with a thousand scenarios that would be funny with Cruise. You don't know what Cruise's life or existence is like, and I'm going to fill in the blanks. I'm going to create this mythology, this lore."
Born 17 years after Tom Cruise, Evan Ferrante was raised by an Italian Catholic father and Russian Jewish mother in Armonk, New York. He became a child actor in the 1980s, appearing in commercials and soap operas, like the short-lived Swans Crossing, but says his ethnically ambiguous features made it hard to book roles.
In 1993, he received his SAG card, but the endless auditions became grueling. "It takes its toll on you psychologically," Ferrante says. "You lose a little bit of your childhood."
"I sometimes don't know where Evan Ferrante begins or ends or Tom Cruise begins or ends."
In 1997, Ferrante was a freshman at Boston University when his hallmate, an aspiring filmmaker named Alex Merkin, noticed that his voice and mannerisms resembled Tom Cruise's. "Jerry Maguire had just come out, and it was doing really well," recalls Merkin. "I told him he should try to learn some of those lines. So he did, and it was, like, uncanny. Almost immediately, it was insane."
At the time, Merkin did a bad Jean-Claude Van Damme impression. The two teamed up, aiming to impress girls.
"We would try to break the ice by knocking on doors, and we would both do impressions and try to meet women and go on dates," says Merkin. "It was so good that everywhere we would go, through the next four years and after, it would be like: 'OK, do the Tom Cruise impression.' It would just become a party trick. I actually had him record my voicemail greeting as Tom Cruise."
Once Ferrante embraced the talent, "it was one of those things where it's like you have a twin that died in the womb, and it's like you have an evil twin brother — you can't escape it," Merkin says. "He was not going to be able to separate himself from it. Not that he wanted to."
After graduation, Ferrante was ready to leave his Tom Cruise act behind. He was tired of it. But then came the early YouTube days, which coincided with heavy tabloid interest in Cruise's couch-jumping exploits. In 2006, at a girlfriend's urging, Ferrante uploaded a crudely shot "demo reel" of his various Cruise characters to YouTube. The video currently has more than 200,000 views.
"It got the attention of some friends of mine in the industry, who had ideas to create a series around this persona that I created, this heightened version of Cruise," he says.
Soon enough, Ferrante was hired to portray Cruise in a Funny or Die video series, and his party trick became a career. Since then, Ferrante has performed at countless corporate events, parodied Cruise in commercials and cartoons, and pumped out thousands of Cameo messages (current rate: $100 for a personalized video, $387 for a live video call). Movie studios have even hired him to serve as Cruise's voice match in early cuts of movie trailers.
At times, he was hard up for cash and said yes to appearances he later regretted. There was, for instance, the demoralizing time he agreed to dance in his tighty-whities at several '80s-themed nights in the Midwest.
"It was all unhappily married, nicotine-stained women in Dubuque, Iowa, and Fredericksburg, Indiana," Ferrante recalls. "They were just clawing at my underwear. I felt like a Chippendales dancer."
"They were just clawing at my underwear. I felt like a Chippendales dancer."
Sometimes, playing Tom Cruise is a joy. Other times, it's a source of psychic confusion.
"It's an identity crisis, like Jekyll and Hyde," Ferrante says. "I sometimes don't know where Evan Ferrante begins or ends or Tom Cruise begins or ends."
Last year, when Top Gun: Maverick came out, Ferrante remembers thinking, "'How big could this possibly be?' And it was way bigger than I ever imagined. Almost every day, I'd get some sort of inquiry — mainly corporate appearances. Commercial work, voiceover work. There was an incessant demand for Maverick. And it did not stop for well over a year!"
Recently, Ferrante's life has been a little like George Clooney's in Up in the Air, except instead of traveling around the country firing employees, he travels around getting employees fired up — usually in character as Maverick, the ace naval aviator. He'll play "Danger Zone," the bombastic Top Gun theme, as his entrance music, and fist-bump all the middle managers as he races up to the stage. Or sometimes he's in character as Ethan Hunt from Mission: Impossible.
Cruise's oeuvre "pairs well with corporate America."
Last year, Ferrante performed at so many corporate events in so many cities that he has to start rifling through his 1099 forms just to remember them all. Much of it's a blur. There was the Snapchat event, the opening of an Alamo Drafthouse somewhere he can't recall, the fintech company that flew him in a helicopter and feted him with caviar, and the FedEx event where he was tasked with entertaining FedEx presidents from all over.
"All these events, they're all properly liquored up," Ferrante says. "Everyone is pretty three sheets to the wind. They come here to let loose."
"I've used him on 'Remission: Possible' for pharmaceutical companies," says Paolo, the creative director. "In the corporate sphere, not to be catty or anything, but they're pretty much behind the times — they like things that have been done and proven. Like Hollywood, right? They like Top Gun. They like Mission: Impossible. Risky Business is something that not a lot of them understood. But those other two — and since every two years is a new Mission: Impossible — the world opens up for Evan."
Cruise's oeuvre "pairs well with corporate America," Ferrante observes. "With Top Gun, you have 'I feel the need…'; Jerry Maguire, 'show me the money' for anything in fintech or finance."
While technology companies pay him handsomely, the tech industry may also be Ferrante's undoing as artificial-intelligence-generated deepfake software grows increasingly sophisticated. In 2021, a company called Metaphysic worked with a Cruise look-alike named Miles Fisher to create startlingly convincing videos of Cruise teeing off at a golf course, among other activities. It wasn't really Cruise — just his face digitally "mapped" onto Fisher's — but the videos fooled countless viewers. (Chris Umé, the co-founder of Metaphysic, did not respond to requests for comment.)
Though Ferrante had nothing to do with those videos, he was initially blamed and had his Instagram account temporarily deactivated. The actor had participated in other deepfake projects previously. "I was probably the very first actor to work with a deepfake technician/engineer," Ferrante says, referencing a 2019 video in which he helped artificially place Tom Cruise's face over Christian Bale's in American Psycho.
Soon, he believes, studios will pay enormous sums to license the digital likeness of famous movie stars in perpetuity. "They'll pay Tom Cruise $10 billion, whatever, for the forever usage of his likeness. That is certainly coming into being right now. It's not science fiction."
Ferrante knows he can't do this forever. As Rear Adm. Cain (Ed Harris) tells Maverick in the new Top Gun, "The future is coming, and you're not in it."
"I'm winding down," Ferrante says. "I would say I'm in the twilight of my career."
For one thing, he's a dad now — he and his partner have a 2-year-old son — and he doesn't have the same energy he once had. (No, the toddler doesn't know who Tom Cruise is: "I have this Tom Cruise pillow here. He thinks that's Daddy," Ferrante says.)
For another, Ferrante figures he'll need a more stable income to support his growing family. He now complements his Cruise income by working as a real estate agent for a luxury firm based in Beverly Hills. It's not exactly clear which is the day job and which is the side hustle.
"One day the phone may stop ringing."
If Ferrante does hang up his Cruise wig, he wants to go out with a bang. He muses about writing a book someday espousing what he's learned as a Cruise impersonator and what successful attributes Cruise has that could be parlayed into corporate America. ("It'll almost be like a mission statement, like from Jerry Maguire.") He then wants to design a keynote presentation around it and begin presenting his own speech to corporate audiences. He believes Cruise's "incredible discipline" is the main attribute separating him from the man himself.
For now, Ferrante is just riding the wave of Cruise fever wherever it takes him.
"I was in Chicago a week ago," he tells me. "I don't know where I'll end up next. I'm sure I'll get a call tomorrow. One day the phone may stop ringing, and I'm prepared for that and I'm transitioning, but every time I transition, they end up sucking me back in."