Tom Cruise's Last Foray Into Sci-Fi Might Also Be His Best
Cruise and genre films are a tricky fit, but he just managed to walk the tightrope here.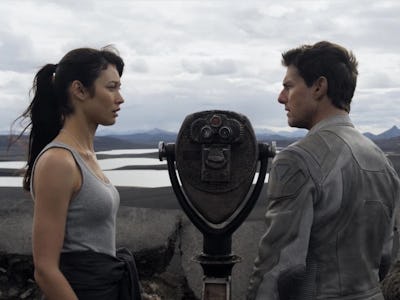 Universal Pictures
Tom Cruise has been eligible for AARP membership for a decade, but that isn't stopping him from ramping a motorcycle off a cliff in this summer's Mission: Impossible - Dead Reckoning Part One, presumably as part of a broader mission to go make something or someone explode. He is a man with the monomaniacal mission of keeping the moviegoing experience thrilling ... even if the process kills him.
Still, Cruise has settled into his equivalent of a comfortable middle-aged routine. Of the eight movies he's made since 2015, four are Mission: Impossible installments, and the other four are M:I adjacent. The excellent Top Gun: Maverick, underappreciated American Made, bland Jack Reacher: Never Go Back, and horrid The Mummy are action thrillers that indulged Cruise's love of driving motorcycles, flying planes, and starring in movies with colons in their titles.
There are certainly worse niches to fill than being a 60-year-old action star who still looks capable of serving genuine military service, but we're a long way from the days of dramas like Rain Man and A Few Good Men. But before the Impossiblessance, Cruise briefly branched out with two sci-fi films that saw him shoot futuristic guns, operate futuristic vehicles, and put his grimacing face under straightforward titles Cormac McCarthy would be proud of. Edge of Tomorrow was profitable and lauded for its clever, pacy take on the time-loop thriller … and then there was Oblivion.
Oblivion turned a profit too — it's difficult for a Cruise movie to not bring audiences in — but reviewers were split down the middle, and it's rare to see it looked back on with the same fondness as Edge of Tomorrow. Even the generic title, an obscure reference to the movie's exploration of memory, is appropriately forgettable, and its relatively slow burn isn't friendly to fans looking to watch Cruise gun down aliens with a smirk on his face. But there's a lot to like here, even if you can feel the genre trappings warring with the Cruiseisms.
It's 2077, and Jack (Cruise) and Victoria (Andrea Riseborough) are the only humans left on Earth. Decades ago, humanity fought off an alien invasion that destroyed the Moon and left Earth uninhabitable, and it's Jack's job to oversee a fleet of drones that mop up enemy survivors and convert the planet's oceans into hydrothermal energy. He reports to a woman named Sally aboard the orbiting "Tet" space station, and with the job almost complete, the trio is due to join a colony of survivors on Titan in a couple of weeks.
Brace yourself, but not all goes as planned. Jack can't shake memories of a prewar existence he shouldn't have, and a UFO falls out of the sky to reveal Julia (Olga Kurylenko), who claims to be a NASA astronaut who's been in stasis since the war began in the futuristic year of 2017. Then the Tom Cruise clones start showing up, and things get weirder from there.
Oblivion feels like both a mishmash and a throwback, a bevy of sci-fi tropes thrown in a blender and poured through a "unravel the conspiracy" style '70s thriller that could only dream of Oblivion's modern budget and effects. Those visuals are one of its highlights, as director Joseph Kosinski dazzles with sweeping Icelandic landscapes and post-apocalyptic technology that feels like Apple products given an ominous sheen. M83's soundtrack also goes for unironic grandeur, and together they invoke an old-fashioned "Can you believe how weird the future might be?" vibe. So much of modern sci-fi is reduced to shooting invading aliens, but Oblivion embraces the sheer strangeness of what an alien invasion could look like.
Still, this is a Cruise movie, and the man doesn't get out of bed if he can't motorcycle across an esplanade or salt flat. We receive a steady drip of intriguing revelations, but ultimately they're in the service of blowing crap up. That action is competent, but we're supposed to be getting to the bottom of Jack's mysterious existence because of his rebelliousness and curiosity, and instead it just feels like we're getting to it because he is Tom Cruise and that is what Tom Cruise is destined to do. What begins as an exploration of the sinister edge to Jack's futuristic workday existence ends with moments that feel like they could be from any Cruise movie of the last 15 years.
That derivativeness was the largest complaint among contemporary reviews, but a decade later it's a sin that's easier to forgive. Oblivion doesn't trust you to put together the puzzle pieces and stay engaged without a few firefights, and its exploration of loss and loneliness falls by the wayside. But it still works, partially because it looks phenomenal and partially because we now know that Cruise and Kosinski went on to make Top Gun: Maverick, which is the theatrical equivalent of getting punched in the teeth while snorting cocaine.
Before Oblivion, Kosinski was panned for making the garish Tron: Legacy, and Cruise, fresh off Rock of Ages and Knight and Day, teetered on the brink of being a has-been. Oblivion was a step towards reinvention for both, and its occasional shakiness now looks like growing pains rather than missteps. Oblivion may very well be Cruise's last sci-fi movie and, if so, it's a fitting one. He never quite escapes his own shadow, and you can see the obligatory moments meant to highlight his own legend. But it's still a great ride with more on its mind than it gets credit for.