Does The Marvels Have a Post-Credits Scene? A Spoiler-Free Guide
Here's when you can head to the parking lot.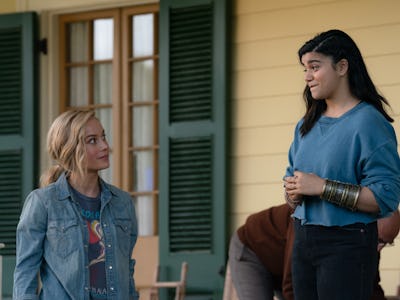 Marvel Studios
Marvel's Cinematic Universe wouldn't be what it is today without its penchant for credits scenes. The franchise owes its interconnected, episodic narrative to its many teasers: they've helped set up countless future storylines, introduce new characters, and simply deliver fun punchlines. They're not always worth the wait, but Marvel's had 15 years to perfect its formula, and the Multiverse Saga seems to have things down to a science again.
The MCU's latest entry, The Marvels, takes a smart approach. As the sequel to three tangentially related projects, it's understandable to expect a bloated, tangled film, but the 105-minute movie is pretty light on its feet. It zips through an intergalactic adventure with Brie Larson's Captain Marvel, Teyonah Parris' Monica Rambeau, and Iman Vellani's Kamala Khan, and each hero gets enough time to shine and further their respective journeys.
The Marvels isn't your typical MCU film, but how does it hold up the franchise's most hallowed tradition? Here's a spoiler-free guide to The Marvels' post-credit scenes, including whether there are any of import to the MCU at large, and whether you need to stick around to the very end of the credits.
Is there a post-credits scene in The Marvels?
Yes! The Marvels has one mid-credits scene, which is slotted between the splashy main credits and the longer crawl. There is no post-credits scene, however, so you don't have to stay until the lights come on.
That might be disappointing, considering most Marvel projects have two stingers. Recent credits scenes haven't been all that necessary in the grand scheme of things, though. Usually, one sets up a future MCU adventure, while the second is a callback or joke. That can be fun, but they don't add much to the story. The Marvels understands that well, and makes a wise choice to keep its story succinct.
The Marvels itself is already short by MCU standards. It doesn't waste any extra time on that notorious Marvel bloat, and that includes its approach to its credits. But without spoiling anything, the reveals it does share will definitely have people talking long after the credits roll.
The Marvels hits theaters on November 9.