The Mandalorian Season 4 update reveals an exciting Star Wars crossover
The Mandalorian isn't coming to an end anytime soon.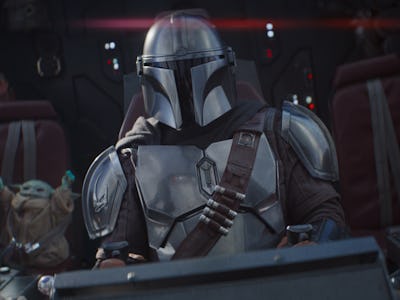 Star Wars fans don't have to worry about saying goodbye to The Mandalorian anytime soon. The popular Disney+ series hasn't released a new episode since its second season came to an end in December 2020, but production has wrapped on The Mandalorian Season 3, which is set to premiere in 2023. That means we'll be returning to everyone's favorite space stepdad over two years after his sophomore season's conclusion.
The good part is that it looks like Lucasfilm and everyone involved in The Mandalorian are already thinking about its future beyond Season 3. If some recent comments from series creator Jon Favreau are any indication, it sounds like future seasons of The Mandalorian may share even more connections to Lucasfilm's other Disney+ originals than its first two seasons did.
An Exciting Update — In a recent interview with CinemaBlend, Jon Favreau revealed that he's already writing the scripts for a fourth season of The Mandalorian. Favreau also teased that the fourth season may be more entwined with the events of Lucasfilm's other planned Disney+ shows, including Ahsoka.
"With television, we're very lucky that we don't have to rush things through into an hour-and-a-half, two hours. We get to tell stories slowly," Favreau said. "So now, as Dave [Filoni]'s doing Ahsoka, it's very much informing the writing that I'm doing for [The Mandalorian] Season 4. It becomes – how should I put it – more precise." In the same interview, the Mandalorian creator noted that his writing process for the series is very different now compared to when he wrote its first season.
"When I was writing the first season of Mandalorian, I could do anything, set it anywhere. Dave [Filoni] would read it, we'd go back and forth, I would adjust. And there it was," Favreau said. "Now we have to figure out why there are certain Mandalorians who wear helmets, certain ones who don't wear helmets, what's happening on Mandalore, what's Bo-Katan doing at the time? How does she feel about that? Where is the Darksaber?"
"It really creates very fertile ground for imagination, for storytelling," Favreau added.
An Interconnected Galaxy — There are two major takeaways from Favreau's comments. The first is that he's already working on The Mandalorian Season 4, which essentially serves as confirmation that the series will return for a fourth season on Disney+. Lucasfilm has yet to officially announce a Season 4 renewal, but it's difficult to imagine that Favreau would already be writing a new season if the studio wasn't interested in one.
The other takeaway is that it sounds like The Mandalorian will continue a trend that began earlier this year in The Book of Boba Fett. That Disney+ series spent two episodes catching up with characters and subplots from The Mandalorian, and in doing so it efficiently cemented just how interconnected the TV side of Star Wars has become.
Now it sounds like The Mandalorian Season 4 will engage in the same kinds of crossovers and connections. Specifically, Favreau's mention of Ahsoka raises the possibility that those two shows may end up being more deeply connected than fans think.
The Inverse Analysis — There's no way of knowing what secrets or surprises Lucasfilm has hidden up its sleeves with The Mandalorian. That said, Favreau's recent comments not only seem to confirm that it's been renewed for a fourth season, but they also suggest that the series will continue to establish and explore new connections between it and Lucasfilm's other Star Wars TV shows.
That's an undeniably exciting update, even if it still remains to be seen exactly what The Mandalorian Season 4's canonical Star Wars connections turn out to be.
The Mandalorian Season 3 is expected to premiere on Disney+ in 2023.