The Mandalorian Just Made The Same Unexpected Mistake as The Book of Boba Fett
Turns out that there is such a thing as too many cameos.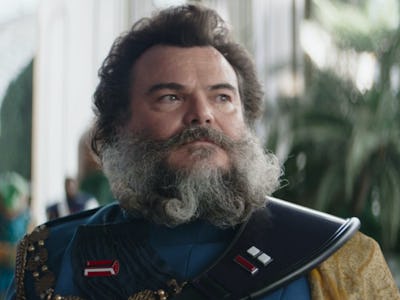 Lucasfilm
Episode 6 of The Mandalorian Season 3 is a decidedly odd installment of the quasi-serialized Disney+ series. The episode, titled "Guns for Hire," follows Bo-Katan Kryze (Katee Sackhoff), Din Djarin (Pedro Pascal), and Grogu as their quest to unite all of the galaxy's Mandalorian factions sends them to the utopian planet of Plazir-15. Once there, Bo-Katan and Din are asked to complete a task for the planet's rulers, Captain Bombardier (Jack Black) and his wife, The Duchess (Lizzo).
Jack Black and Lizzo are just two of the guest stars who appear in "Guns for Hire." The episode is, in fact, practically overflowing with recognizable names, faces, and voices. While The Mandalorian has never been afraid to pack in the occasional cameo, either, its latest episode sees it push that habit a bit too far. In doing so, the series makes the same mistake that Episode 6 of The Book of Boba Fett made last year.
Over the course of its 46-minute runtime, the latest installment of The Mandalorian finds ways to feature far more than its fair share of guest stars. Thanks to their roles as Plazir-15's married, democratically-elected rulers, Black and Lizzo get the most to do out of the episode's supporting players. However, the episode also features Back to the Future star Christopher Lloyd, who (spoiler alert) plays the villain of "Guns for Hire," a politically-driven security official named Commissioner Helgait.
In addition to Lloyd, Black, and Lizzo, the episode also features guest appearances from Tom Holland's brother, Harry Holland, and veteran character actress Dale Dickey, who supplies the gravelly voice for a proud ugnaught named Saifir. Holland, for his part, voices a runaway Mon Calamari who is forced to part ways with his Quarren lover in the opening scene of "Guns for Hire."
Between Dickey, Holland, Lloyd, Lizzo, and Black, there's no denying that "Guns for Hire" crams in more recognizable voices and faces than it really knows what to do with. While it's fun to watch Lizzo and Black throw out Star Wars slang and talk about Imperial reform as well, their presence in "Guns for Hire" ultimately distracts from the episode's fairly straightforward, well-plotted detective story. Episode 6 of The Book of Boba Fett, notably, committed a similar sin last year.
The episode in question, which was penned by Mandalorian creator Jon Favreau and Dave Filoni, features surprise appearances from deepfake Luke Skywalker, Ahsoka Tano, Cad Bane, Grogu, R2-D2, and others. Unfortunately, its sheer number of cameos ends up taking away from certain characters' on-screen power — namely, Rosario Dawson's Ahsoka Tano. Indeed, while it gives Ahsoka the chance to share the screen for the first time with the son of her former Jedi teacher, the episode's overwhelming reliance on cameos robs Ahsoka and Luke's first on-screen scene together of its potential weight.
"Guns for Hire" doesn't make nearly as big of a mistake as that. However, the episode's wide array of cameos do end up taking away a bit from not only its plot, but also the moments shared by its already-established Mandalorian characters. That's a particularly disappointing mistake for the episode to make, especially given how much The Mandalorian Season 3 has already struggled with equally dividing its attention between its main characters.
The Inverse Analysis — "Guns for Hire" is, by no means, the worst or silliest episode of The Mandalorian that viewers have seen. It is, however, the show's most guest star-reliant episode. While there's a fair amount of fun to be mined from some of the episode's cameos, too, "Guns for Hire" ultimately proves, once again, that there can actually be such a thing as too many cameos.
New episodes of The Mandalorian premiere Wednesdays on Disney+.