Superman Lives? The Flash Rumor Resurrects the Greatest Superhero Movie Never Made
It's a bird, it's a plane, it's ... Nicolas Cage?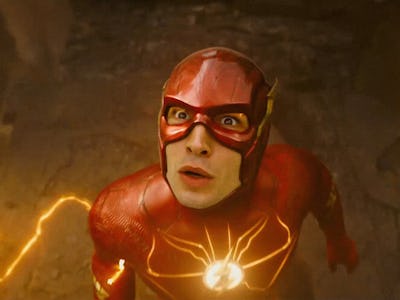 Warner Bros. Pictures
With The Flash making the rounds at CinemaCon in Las Vegas, word of mouth is bound to travel fast. DC Studios clearly has a whole lotta faith in their upcoming superhero flick, which will take its lead, Barry Allen (Ezra Miller) on a zany odyssey through DC's fabled multiverse. In spite of the controversy surrounding its star, The Flash does benefit from a genius premise: roping multiple Batman alums into one film. But The Flash will also introduce an all-new Supergirl (played by Sasha Calle) — and according to recent leaks from CinemaCon, another infamous Superman variant may make an appearance as well.
A new rumor suggests that Nicolas Cage himself will cameo in The Flash as Superman. According to MyTimeToShineHello, Cage's Superman fights a "giant robot spider" in the film. If true, the actor's appearance in the film is likely a brief one, but it'd be a substantial nod to a Superman film that never was.
Back in the '90s, Cage was attached to portray the Man of Steel in Tim Burton's Superman Lives. In hindsight, this probably sounds like the product of a mad libs scramble — but at the time, it was well in line with the grungy sensibilities of the '90s. Superman Lives was competing with the legacy of Richard Donner's Superman: The Movie, and producer Jon Peters was adamant about modernizing the hero wherever possible.
Superman Lives was loosely based on the successful Death of Superman comic, in which Superman famously loses his powers, is killed in a brawl with Doomsday, and eventually comes back to life. The film would focus on Clark Kent's status as an outsider, and would have pit Cage's Superman against three separate villains: Lex Luthor, Brainiac, and of course, Doomsday.
Multiple scribes worked on the film over the years — Kevin Smith, Wesley Strick, and Dan Gilroy, each contributed their own scripts — and the story was further reworked once Burton boarded the project and casting fell into place. Burton was keen to reunite with Christopher Walken, who'd portrayed another DC villain, Max Shreck, in Batman Returns. The director was even eyeing Michael Keaton for a cameo as Batman.
Superman Lives was ultimately canceled — thanks in no small part to Burton's tumultuous relationship with Warner Bros., as well as concerns with the budget — but quite a few elements of the film would be repurposed less than a decade later, for Superman Returns. Kevin Spacey was apparently in talks to play Lex Luthor in Superman Lives, and was eventually able to play the role in Bryan Singer's 2006 film.
Admittedly, Superman Returns isn't a terrible Superman flick — but Superman Lives is still a topic of fascination 25 years after it was axed by Warner Bros. If Cage does make an appearance in The Flash, it could serve as a great homage to one of the most infamous unmade films, and prove that no scrapped idea can ever go to waste.