The Continental Trailer Teases a John Wick Origin Story
Decades before John Wick carved a bloody path of vengeance, an assassin war wracked the streets of New York City.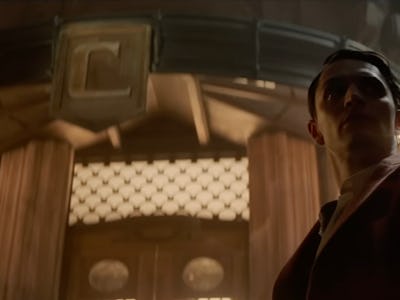 Peacock
As John Wick's nigh-mythological quest for revenge and peace finally comes to an (apparent) end, the franchise looks towards the past in the first trailer for Peacock's spinoff The Continental. Before the first film released in 2014, audiences had no idea what to expect from an under-the-radar action vehicle starring Keanu Reeves, but the impeccable direction and stunt choreography made John Wick one of the runaway successes of the 2010s. The film was almost immediately followed by John Wick: Chapter 2 in 2017 and John Wick: Chapter 3: Parabellum in 2019, before rounding out the saga with a spectacular finale released earlier this year.
While watching Keanu Reeves murder legions of people in increasingly ridiculous and creative ways has always been the main draw of the franchise, the series has also made room for some fascinating worldbuilding in terms of the web of international assassins working together under the High Table. Each film has introduced a new key piece of the puzzle, from the blood markers used to bind John Wick to an assignment in Chapter 2, to the high-stakes single duels used to end petty feuds introduced in Chapter 4. However, arguably the centerpiece of the series so far has been the illustrious Continental Hotel, where assassins stay, play, and frequently break the rules — and the first trailer promises to take us back to the beginning of it all.
Without revealing much, the trailer for The Continental takes us back to New York in the 1970s, showing off glimpses of the staff, the period-accurate decor, and of course, the ruthless assassins, criminals, and killers we'll be meeting over the course of the three-night event. There's a few quick flashes of the chaos that will erupt both inside and outside of the hotel, featuring firefights, martial arts showdowns, and the tease of an epic swordfight featuring a masked assassin — and at the heart of it all is a young Winston Scott (Colin Woodell), presumably planning the power move that will make him The Continental's stubborn owner 40 years later.
Although the studio is already considering a John Wick: Chapter 5, it seems like a clever idea to veer back into the past instead. Not only will we get to see the humble beginnings of one of the franchise's best locations and characters, but it's also a chance to get more crucial insight into the workings of the High Table and this secret world that has captivated audiences for four films now. The Continental might not feature Keanu Reeves' beloved killer, but it promises insight into the world that birthed him, which is more than enough to ensure that fans are ready and waiting.
The Continental drops on Peacock in September 2023.