How John Wick: Chapter 4 Closes the Book on a Nine-Year Saga
The end of John Wick: Chapter 4 indicates a new direction for the series.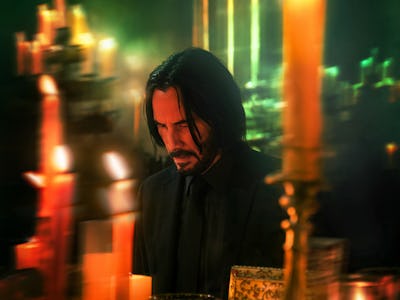 Lionsgate
The legend of the Baba Yaga is only getting bigger.
John Wick: Chapter 4 is here, and with it, another outing with Keanu Reeves as his unstoppable killing machine. This time, both Reeves and longtime series director Chad Stahelski leave nothing on the (High) Table — delivering not only the most thrilling and satisfying installment in the series, but one of the most consequential. Without spoiling it all right here, let's just say that John Wick might not be the same ever again.
Let's unpack the ending of John Wick: Chapter 4 and what it might mean for the future of the series — if there is one.
Warning: Spoilers for John Wick: Chapter 4 ahead.
Like the other three films in the series, John Wick: Chapter 4 is not a complicated film. While John Wick has come a long way from seeking revenge for his dead dog, Chapter 4 has a simple plot and an even simpler resolution: In order to end John Wick's exile and bounty once and for all, John Wick has to challenge a senior member of the High Table — Marquis Vincent de Gramont, played by Bill Skarsgård — to a one-on-one duel.
Of course, to even qualify to challenge, John Wick has to take care of some business for his adoptive sister Katia (Natalia Tena), but that's just crossing the Ts and dotting the Is. John Wick succeeds in obtaining the right to challenge de Gramont, seguing into the third and final act of the movie.
Despite de Gramont's best efforts to kill Wick beforehand, the Baba Yaga makes it to his designated location, the Sacré-Cœur at sunrise, thanks to his pals Caine (Donnie Yen) and a "Mr. Nobody" (Shamier Anderson). Because no one can shoot like John Wick (and because he withholds his final shot against his longtime friend Caine), he wins his pistol duel against de Gramont. His debt to the High Table is cleared, and for the first time in a long time, John Wick is a free man.
But John Wick sustained a lot of wounds, and getting shot point-blank by a vintage pistol is the killing blow. While John Wick bleeds out on the steps of the Sacré-Cœur, Winston (Ian McShane) promises John he'll bring him home. From the Sacré-Cœur, Chapter 4 fades back to the outskirts of New York, with a new headstone next to Helen's: John Wick, "Loving Husband." It's easy to forget, but all of this pain and death really stems from John Wick's unceasing love and memory of his late wife.
Despite both Stahelski and Reeves saying that they'll keep making John Wick movies until they physically cannot anymore, John Wick: Chapter 4 comes off as a definitive ending to John Wick's story. Short of pivoting into a horror movie where an undead John Wick rises from the grave or challenges the Devil to a fistfight, Chapter 4 has closed the book on its titular anti-hero with no ambiguity. For now and maybe forever, John Wick is in the ground.
Is Chapter 4 actually the end of John Wick?
Actually, yeah. In a March 14 interview with The Hollywood Reporter, director Chad Stahelski said both he and Reeves are "done," at least for now.
"In our minds, Keanu and I are done for the moment," Stahelski told THR. "We're going to give John Wick a rest. I'm sure the studio has a plan. If everyone loves it and it goes kooky, then we'll take a quiet minute."
Stahelski added that the Japanese release dates for the John Wick movies tend to happen after the movie already premiered in the U.S. and elsewhere. If the same rings true for Chapter 4, Stahelski feels he might change their mind after some time — and a few drinks.
"Keanu and I will take the long trip to Tokyo, we'll sit in the Imperial Hotel Scotch Bar and go, 'What do you think?' We'll have a couple 20-year-old whiskies and write some ideas on napkins. If those ideas stick, maybe we'll make a movie," Stahelski said.
While John Wick is out of commission, Chapter 4 is chock full of fun, new characters who are worthy of a spin-off. Donnie Yen's Caine is a show-stopper and a possible spin-off where he tries to survive an assassination attempt from Akira (Rina Sawayama) is a mighty compelling idea. There's also Mr. Nobody and his quest to clear his financial debt, which may prove appealing. There's even Katia, the leader of a family of assassins and John Wick's "sister" who feels like she has more story to tell. Katia never throws down in Chapter 4, but she seems more than worthy of carrying a possible spin-off.
John Wick may be gone, but his world keeps on spinning. Be seeing you, John.
John Wick: Chapter 4 is now playing in theaters.