The Next Star Wars Movie Might Not Be the One You Expect
Taika Waititi apparently hasn't forgotten about his Star Wars movie.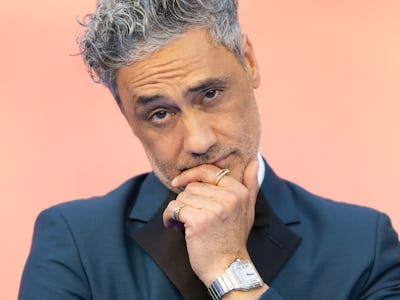 Samir Hussein/WireImage/Getty Images
Taika Waititi is Disney's franchise wunderkind, bouncing from Pixar (Lightyear), Marvel (Thor: Love and Thunder), and Star Wars (The Mandalorian). But one project seems to have gotten away from him: his very own Star Wars movie.
Now, three years after it was first announced, there's finally an update. There's new hope for Star Wars fans and Waititi fans alike, but could this movie really happen? Could it, in fact, even be the next Star Wars movie you see?
Waititi's Star Wars movie was announced on May 4, 2020, and he was slated to direct and co-write alongside Last Night in Soho's Kristy Wilson-Cairns. Since then, the project floundered in development. In May 2022, Lucasfilm president Kathleen Kennedy told GamesRadar the movie had a temporary "late 2023" release date.
But at Star Wars Celebration 2023, an update on Waititi's movie — and Waititi himself — was nowhere to be seen. Kennedy later told Variety he was still working on the script, but implied it had become a solo project. "He doesn't really want to bring others into that process and I don't blame him," she said. "He has a very, very unique voice. So we want to protect that and that's what he's doing. But we're going to make that one day."
"One day" seems to be in the distant future, as other Star Wars movies like Dave Filoni's "Mando-verse" film and Sharmeen Obaid-Chinoy's Rey sequel took the spotlight at Celebration. Waititi himself appears far too busy for a Star Wars movie, as he has plenty of upcoming projects, including feel-good soccer movie Next Goal Wins, a remake of Akira, and a television series based on Time Bandits.
On May 1, Deadline reported on yet another Waititi project, an adaptation of the novel Klara and the Sun. The article mentioned his upcoming Star Wars movie, claiming "insiders say he is still excited about the project and committed to direct that next year."
It seemed like Waititi was going to become a Guillermo Del Toro-like figure, picking up projects left and right but often seeing them fall through. But this surprising update — and the possibility of his movie filming as soon as next year — is a hopeful sign. Considering every other upcoming Star Wars movie is also in early development, there's a chance this could actually be the next Star Wars movie we see. Waititi may be a busy man, but the allure of Star Wars may just be enough to see this through to the end.