41 Years Later, Wes Craven's Forgotten Sci-Fi Movie is Getting a 4K Remaster
Science transformed him into a monster. More science brought him into 4K.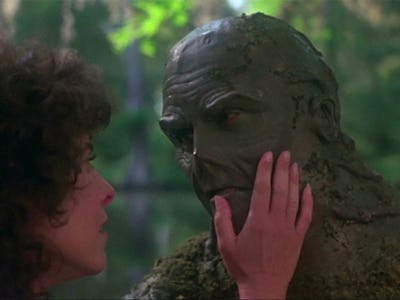 Embassy Pictures
In 1982, horror legend Wes Craven took a stab at the superhero genre with Swamp Thing, a tribute to the B-movie creature features of a bygone era. The film came relatively early in Craven's career, after The Hills Have Eyes and The Last House on the Left, but just a few short years before A Nightmare on Elm Street. It's one of Craven's tamer films, but it might also be his most soulful. It helped that the title monster-turned-hero was perfect for Craven, who leaves plenty of room for traditional action setpieces, as well as some insightful commentary.
Swamp Thing may technically be a member of the DC slate, but he's clearly an homage to Universal's classic monster films. At the time, he was a relatively new character, having been introduced in House of Secrets #92 in the '70s. That allowed Craven to bring his own flair to his film. There are shades of Creature from the Black Lagoon and Bride of Frankenstein in Swamp Thing, which set the tone for the adaptations to follow.
While it's been years since Swamp Thing has been in the spotlight, the Green Man has been enjoying a modest revival. The character returned to helm a short-lived series on DC Universe in 2019, and DC's new creative head, James Gunn, has plans for an all-new film directed by James Mangold. Even the original Swamp Thing is getting a reappraisal: Craven's only superhero flick is getting a 4K re-release.
Swamp Thing's new remaster comes from MVD Visual. A 4K Ultra HD collector's edition will be available on August 8 in a two-disc set, which includes the theatrical cut and the unrated international version in 4K. Both versions have also been restored in HD on a Blu-ray disc. Check out the synopsis below:
Deep in Florida's darkest everglades, a brilliant scientist, Dr. Alec Holland (Ray Wise, Robocop) and a sexy government agent, Alice Cable (Adrienne Barbeau, John Carpenter's The Fog) have developed a secret formula that could end world hunger and change civilization forever. Little do they know, however, that their arch nemesis, Arcane (Louis Jourdan, Octopussy) is plotting to steal the serum for his own selfish schemes. Looting the lab and kidnapping Cable, Arcane douses Holland with the chemicals and leaves him for dead in the swamp. Mutated by his own formula, Holland becomes 'Swamp Thing' — a half human/half plant superhero who will stop at nothing to rescue the beautiful Cable and defeat the evil Arcane... even if it costs him his life.
Swamp Thing 4K Ultra HD + Blu-ray is currently available for purchase.