Succession Easter Egg Reveals Tom's True Intentions in Season 4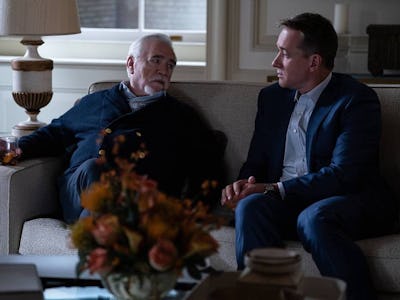 HBO
Succession returned Sunday night with the beginning of the end. Season 4, the final season, premiered with the Roy kids completely separated from their dad's power and looking to start an empire of their own. As family members choose sides, relationships are tested, especially the marriage between Logan devotee Tom Wambsgans and Shiv Roy, each on a different side of the divide.
By the end of the episode, it looks like these two have mutually called it quits, but a closer look proves the truth may not be that simple.
Shiv and Tom have never been the picture of an ideal marriage. Shiv, ever the romantic, hit Tom with a devastating "I may not love you, but I love you" in Season 3, while in Season 2, Tom admitted he often wonders, "If the sad I'd be without you would be less than the sad I get from being with you." The business divide in Season 4 only adds to this.
The first time we see Tom in Episode 1, he's calling Shiv to ask (or, more accurately, inform) her about him going on a "date" with Naomi Pierce, which confuses her — they said they would discuss things before they happened, not as they were happening.
We later learn this was related to a business deal, but that was top secret, and onlookers would naturally think that Tom is on a date when he's spotted at the bar with Kendall Roy's ex-girlfriend, herself another next-gen media mogul. As Redditor KatAleksa0604 points out, Tom's not wearing his wedding ring. In fact, he doesn't wear it at all in Episode 1, except in one scene.
At the end of the episode, we see Shiv return to the apartment she shared with Tom. It's clear she hasn't been back in a while, as their dog doesn't even recognize her scent. Tom is surprised to see her, and they have an emotional talk about the state of their relationship, ultimately settling on the fact that their marriage is over.
That entire time, Tom is wearing his ring. It makes for a heartbreaking last shot as they lie on the bed dealing with what they just said, but it also has character implications. Tom didn't know Shiv was going to return to the apartment; he even mentions that she's staying in a hotel. But he still wore his ring of his own accord.
It's clear from his earlier nervousness on the phone that Tom isn't thrilled with the arrangement he has with Shiv, and while he may have removed his ring and acted divorced in public to separate his image from hers, in private he was apparently still hoping for reconciliation. Despite their lengthy trial separation, Tom is just now asking Logan how a divorce would change his relationship with Waystar Royco, another sign that he hoped to patch things up.
Tom and Shiv may have been the power couple of Succession, but this looks like the final blow for them, even if Tom is more disappointed than he let on. Maybe, just maybe, he hasn't given up quite yet.
Succession Season 4 is streaming on HBO.