Strange New Worlds Season 2 Release Date Revealed!
Captain Pike, Spock, Number One, and the crew are warping back very, very soon.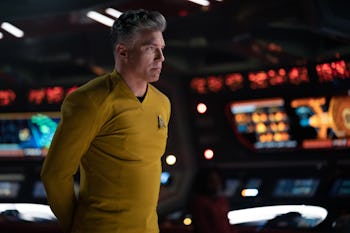 Paramount+
When Star Trek: Picard Season 3 concludes on April 20, fans will have less than a two-month wait until the next new live-action Star Trek season hits. Paramount has confirmed the release date of Star Trek: Strange New Worlds Season 2, and with that confirmation comes more good updates for fans of that series, and beyond.
Strange New Worlds Season 2 release date
According to a new press release from Paramount, Strange New Worlds Season 2 will hit Paramount+ on June 15, 2023. This will keep new Star Trek episodes to a Thursday release, and like Season 1 Strange New Worlds will consist of ten new episodes. And despite Season 1 ending on a cliffhanger involving the arrest of Una Chin-Riley (Rebecca Romijn), the showrunners have said that Strange New Worlds Season 2 will remain episodic. As Henry Alonso Myers told Inverse in 2022: "The show is still very much an adventure of the week."
Star Trek's biggest (and weirdest) crossover is coming
The announcement from Paramount also comes with a reminder that one episode of Strange New Worlds Season 2 "includes the previously announced special crossover episode featuring both live-action and animation." This will find Mariner (Tawny Newsome) and Boimler (Jack Quaid) from Lower Decks joining the USS Enterprise... somehow. This episode is also directed by Jonathan Frakes of Next Generation fame, who has previously directed episodes of Discovery and Picard, including this season's emotional hit "No Win Scenario."
Strange New Worlds Season 3 (and more)
The official reveal that Strange New Worlds Season 3 has already been greenlit, as has Lower Decks Season 5. The upcoming Season 4 of Lower Decks will hit sometime this summer (no exact date there, but since 2020, it's always been in August), while Season 2 of Star Trek: Prodigy will debut in the Winter of 2023. As previously announced, Discovery Season 5 will air in early 2024, and serve as the final season for that show.
This means that the slate for new Star Trek shows is pretty much set for the next two years. Three more shows will air new seasons in 2023; Strange New Worlds Season 2, Lower Decks Season 4, and Prodigy Season 2. While 2024 will see at least three new seasons of different shows; Discovery Season 5, Strange New Worlds Season 3, and Lower Decks Season 5.
New Star Trek shows for 2025?
Because First Contact day is approaching very soon, on April 5, many fans and pundits believe new Star Trek projects will be announced officially very soon. Current Star Trek boss Alex Kurtzman hinted recently that there are "plans for new things… there's quite a few plans, and you'll hear about them soon."
Kurtzman hinted that this could include character-focused miniseries, but also emphasized that the Michelle Yeoh-centric Section 31 series was not off the table, despite it being in development for over four years. According to SFX, Kurtzman said: "I can tell you that we're still very excited about Section 31. And that's all I will say."
Meanwhile, Picard Season 3 showrunner Terry Matalas and the cast are openly pushing for a continuation series set in the 25th Century, which Matalas has dubbed Star Trek: Legacy, and some fans have been calling Star Trek: Titan (in reference to the fan-favorite new starship in Picard Season 3). But as of now, no announcement has been made that such a series will happen.
For now, in terms of the future of the Star Trek franchise, 2023 and 2024 are ready for warp. But, what will beam down in 2025 and beyond, is still very much a mystery.