Star Trek's Newest Breakout Star Made One On-Screen Change Happen Herself
Ashlei Sharpe Chestnut has thought a lot about Sidney La Forge — and she's ready for a spinoff.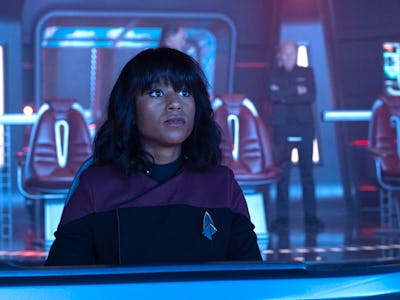 Paramount+
The helmsman of the USS Titan has a lot to live up to. In Star Trek: Picard Season 3, the person sending the starship into warp, traversing asteroids, and ducking in and out of nebulae is Sideny La Forge, played by Ashlei Sharpe Chestnut. She's one of two daughters of Next Generation legend Geordi La Forge (LeVar Burton), along with Alandra La Forge, played by Burton's actual daughter, Mica Burton. In real life, Chestnut is ready to join the Star Trek family for the long haul. "We're Star Trek's family, but outside of that, like, we're family too," Chestnut tells Inverse of her new place in the La Forge family, on-screen and off.
As Picard Season 3 heads into its final episodes, Chestnut has thought about legacy, Sidney's on-screen romance with Jack Crusher, how she made sure no one would ever confuse her with a Changeling, and what she hopes for Sidney La Forge in the future. Spoilers ahead.
As revealed in "The Bounty," Jack Crusher and Sidney La Forge start to flirt as they team up to steal a cloaking device that saves the day. When Geordi growls at Jack, "stay away from my daughter," a new fan ship was born: "LaCrush."
"I feel like their relationship is more meta in the sense that we are the kids of these iconic characters," Chestnut says. "Sidney's trying to come out of her dad's shadow and be her own kind of woman. And Jack is finally figuring out his father. Figuring that out behind the scenes was a journey in and of itself."
As Picard Season 3 heads into Episode 7, fans can expect a lot more "LaCrush" moments, because this connection between Jack and Sidney isn't going away. "There's an arc that Ed [Speleers] and I have on this show, that's separate from our 'parents,' you know? I think fans are going to be surprised!"
Chestnut also reveals that she was encouraged to help define Sidney La Forge. One specific switch, which fans may not have noticed, occurs halfway through the season. Amid all the chaos, Sidney La Forge changes her hairstyle. That's not a production error, but a character-based change that came from Chestnut herself. In Episode 5, "Imposters," Sidney sees a dead shapeshifter doppelganger version of herself as Dr. Crusher (Gates McFadden) performs an autopsy.
"Just seeing myself, laying down as a dead body, that was nuts," Chestnut says. "Sidney sees her dead body. She doesn't want to see that again. So. I wanted to do a hair change! I talked to Terry [Matalas] and asked him if Sidney could change her hair in response to this, and he was like yes."
For longtime Trek fans, the attention to detail in Picard Season 3 is part of the appeal. Chestnut proves that the details aren't just fan service, but story-oriented. And it's a story Chestnut is hoping continues well beyond this year.
Chestnut has several projects lined up, including her role in the final season of NCIS: Los Angeles. But she hopes to return to the Trek universe if and when a spinoff (Star Trek: Legacy? Star Trek: Titan? Star Trek: LaCrush?) happens.
"I kept my comms badge," Chestnut says. "I tried to keep my uniform, but CBS and Paramount were like, 'No, please give that back.' I hope we get our own spinoff! If the fans really love us, maybe it will happen."
Star Trek: Picard streams on Paramount+.