One Strange New Worlds Character Will Finally Get Her Own Season 2 Episode
Melissa Navia says to expect "a lot more" of Ortegas in Star Trek.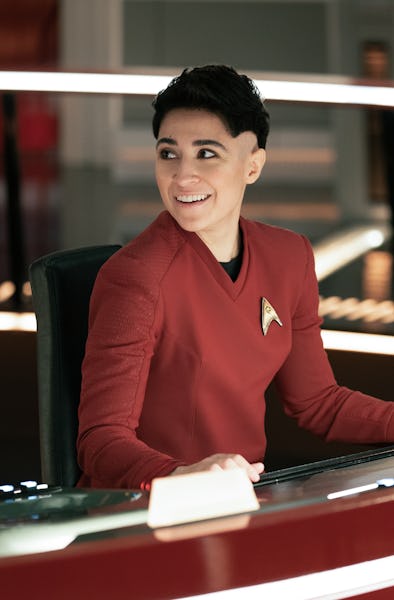 Paramount+
Right out of the gate, Star Trek: Strange New Worlds was an instant hit. With a 99% rating on Rotten Tomatoes and an extremely accessible first season in 2022, this retro-prequel to The Original Series is a huge part of the future of the Trek franchise for the foreseeable future. Strange New Worlds was so big that it's easy to forget that right now, we've only seen the 10 episodes of the first season. But with Season 2 coming soon in 2023, Strange New Worlds is about to get stranger.
Ahead of Season 1 hitting DVD/Blu-ray today, Inverse caught up with break-out series star Melissa Navia to talk about her personal fandom and what's ahead for Season 2 and beyond.
Mild Strange New Worlds Season 1 spoilers ahead.
In Strange New Worlds, Melissa Navia plays the helmsman or flight controller of the USS Enterprise NCC-1701. This has retroactively put her ahead of Sulu in the timeline, a Trekkie detail that is not lost on her at all. Navia is a huge fan of the franchise, and although a relatively recent addition to the Trek family, dived into the fan community right away. On her social media accounts she regularly shares fan art, gets excited bout the spin-off comics, and has hit up her fair share of Trek conventions.
"I know how important it is to really rep a show that you feel so proud of and so honored to be a part of," Navia tells Inverse of her enthusiasm for Strange New Worlds. " Star Trek really goes beyond what we do on set and on the screen. It becomes a world in and of itself. So for me, it's a joy to be a part of it."
As she's revealed elsewhere in detail, Navia notes that part of her immersion into the Star Trek community helped with her grief following the loss of her late partner Brian, who died of leukemia in 2021.
"He was with me through the filming of Season 1. And he was not physically with me for Season 2," Navia says. "So, I think it was really about reaching out to fans and speaking to them about my grief and how it is part of my world. And now, I hear from fans about how Star Trek has helped them get through their grief. It's this sort of symbiotic relationship where we're all just really kind of rolling off each other. And for me, it's been cathartic and wonderful. And I hope that the fans are feeling what I'm giving."
For many fans, even though there's been just a handful of episodes, the Strange New Worlds crew instantly felt like a complete ensemble. And, unlike the serialized nature of Discovery or Picard, Season 1 of Strange New Worlds had several standalone episodes, focusing on each crewmember. We got an episode about Una, an episode about Hemmer, an episode about La'an, Dr. M'Benga, and of course Pike and Spock.
But, what about Oretegas? Will our favorite new Starfleet pilot get her own episode in Strange New Worlds Season 2?
"Yes," Navia says. "I can say that without getting into trouble. We did get that sneak peek for Season 2 [in 2022] of me, of Ortegas you know, potentially getting to be part of a landing party. But the fans have been asking for Ortegas and you know, you'll see a lot of her throughout all 10 episodes."
Navia also notes that because the public has only seen Season 1, it's "difficult to fully flesh out everyone in the ensemble in just 10 episodes." But fans should rest assured that in Season 2, "Ortegas is really coming into her own and taking steps that maybe she didn't take in Season 1."
Watch: Strange New World Blu-ray, exclusive clip
So, overall, what should fans expect from Strange New Worlds Season 2? According to Navia, fans should expect surprises.
"In Season 2, anything is possible," Navia says with a huge grin. "I actually think Season 2 could be even better than Season 1. We were filming Season 2 while, while the world was, was experiencing Season 1. For us, that feedback really gave us a lot of confidence and electrified everything we were doing. It gave us the go-ahead to maybe push the envelope."
Strange New Worlds is out on Blu-ray, DVD, and limited-edition Blu-ray Steelbook now, and on 4K UHD Steelbook on May 16, from Paramount+, CBS Home Entertainment and Paramount Home Entertainment. Season 2 will hit Paramount+ sometime in 2023.