Star Wars Producers Say Canon Is More Flexible Now Than Ever Before
Wondering how Visions fits into canon? That's the wrong question.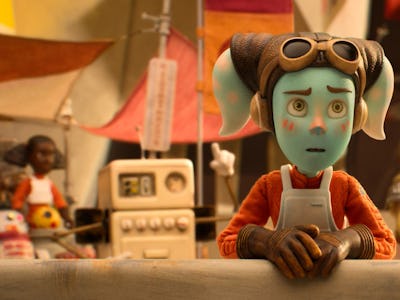 Lucasfilm/Aardman
Everyone's favorite X-wing pilot legend is back! In Season 2 of Star Wars: Visions, the episode "I Am Your Mother," shows us heroic Wedge Antilles, right away. And while he is once again voiced by the actor who made him famous, Denis Lawson, this version of Wedge is much goofier and looks like he just escaped from a Wallace and Gromit cartoon. That's appropriate since "I Am Your Mother" comes from animation studio Aardman, famous for its distinct stop-motion style. But from a canonical point of view, how do Star Wars fans reconcile movie Wedge with stop-motion Aardman Wedge? Short answer: Stop worrying about it so much.
"It was all about who [the main character] Anni could look up to," producer Josh Rimes tells Inverse. "It's this sort of Flight Academy world of the New Republic, but told through the lens of Aardman. So Wedge became a very natural piece. I mean, there are a lot of Easter eggs throughout that Aardman short that fans will be discovering for a long time. But all of it needs to serve the original story and the original characters. Anni hopes to become a sort of Wedge someday. And using a character like that is an ongoing conversation between us and the studios."
"I am Your Mother," is just one short of eight in Star Wars: Visions Season 2, but, in some ways, it represents a microcosm of the entire season, and perhaps the loosening of Star Wars canon more broadly.
Unlike Visions Season 1, each individual animation studio is not exclusively anime, meaning more cultural points of view were brought into these shorts than ever before. More than expanding the Star Wars canon or messing with the timeline, producer Jacqui Lopez explains that making the cultural palette and real-life historical influence of Star Wars broader is the ultimate goal of Visions.
"This is what George Lucas was interested in from the beginning," she says. "George was so steeped in history and telling stories that drew from different cultural places. He wanted to tell stories about the light and the dark."
Cultural and historical influences are all over Visions season 2, from the WWII French Resistance-inspired short "The Spy Dancer" by Studio La Cachette to India-based studio 88 Pictures' "The Bandits of Golak," to the very Irish "Screecher's Reach" from Cartoon Salon. And then there's, "In the Stars," a claymation cartoon from Chilean studio Punkrobot in which two sisters battle the Empire in a surprising way while using imagery from Chilean culture and making it uniquely Star Wars at the same time.
This isn't to say Visions has forgone anime. Japanese studio D'ART Shtajio delivers the uplifting episode "The Pit" about a group of enslaved workers left in a giant hole after they're no longer useful to the Empire. Meanwhile, Studio Mir (a Korean company best known for anime-inspired cartoons like The Legend of Korra) offers up "Journey to the Dark Head," which seems to set up an entire spinoff series. But is that the intent? Is Lucasfilm using Visions as a testing ground for new animated projects that will be explicitly part of the larger canon?
"Could these things expand out? Well, that's not really the goal of Visions," says Lucasfilm executive James Waugh. "If there is a natural place — like in Volume One, we had some publishing tie-ins that really continued and expanded out those stories. So if it feels right, I think all of these stories could scale out. But no, we're not planning on using Visions that way."
Both Waugh and Lopez work on various aspects of Star Wars across multiple shows, meaning the idea of canon and continuity is often on their minds. Even if Visions is not explicitly canon — and even if shorts are not backdoor pilots to new Star Wars shows — that doesn't mean someday, some of these ideas could sneak into the more mainline Star Wars.
"On some level, everything that is done within Star Wars is influencing everybody else working within Star Wars," Waugh says.
Lopez notes that the short-form format of Visions will naturally make fans want more, which is sort of the point.
"Because of the simplicity and the expediency to tell the story, the emotional impact can be so heavy," she says, adding she would make spinoffs from Visions if she could. "I would make a series on all of these characters! I wanna see what happens next on every single one."
For now, the future of Star Wars animated canon stories will remain in shows like The Bad Batch. But what Visions has proven is that the concept of Star Wars is bigger than its own canon. And if that tradition continues, it's possible that in 10 years, fans will no longer argue about canon as much as we do now. Perhaps instead we'll simply be concerned with the only thing that matters — the magic of the galaxy far, far away and the stories contained within.
Star Wars: Visions Volume 2 streams on Disney+ starting May 4, 2023.