Star Wars TV Should Take a Page From Marvel Delays
The best cure for content fatigue is rest.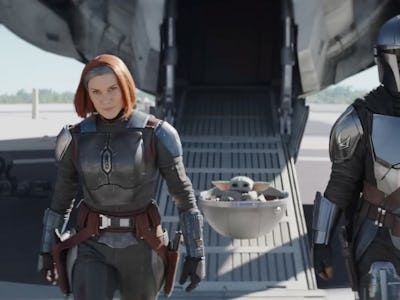 Lucasfilm
Disney+ is getting a huge shakeup. After announcing a slew of shows for the platform, Marvel Studios is now slowing its roll, delaying projects like Echo and X-Men '97 from late 2023 to early 2024.
Now fans are looking to Star Wars, Marvel's franchise counterpart, to see if it will follow suit. There may be fewer upcoming Lucasfilm projects, but the smartest move could still be to pace them out to keep everyone interested, and keep the galaxy from getting old.
At Disney Investor Day back in December 2020, Lucasfilm announced nine new Star Wars series to be released over the next few years. Now, almost three years later, only five actually made it to Disney+: Ahsoka, Andor, Obi-Wan Kenobi, The Bad Batch, and Visions. Two others, The Acolyte and Lando, are still in development, and two more, Rangers of the New Republic and A Droid Story, have seemingly fizzled.
Given that mixed track record, it makes sense that additional Star Wars shows haven't been announced often. But one managed to squeak through: Skeleton Crew, a new "Mando-verse" series starring Jude Law as the guardian of young adventurers. The series is supposed to be released later this year, but Lucasfilm should learn from Marvel and push it to 2024.
The content churn of Disney+ means the schedule is often jam-packed with new Star Wars and Marvel shows. Just this year, we've seen both a new season of The Mandalorian and the premiere of Ahsoka, which is also set during the New Republic era. If Skeleton Crew came out too, it would make 2023 a very Mandoverse-centric year.
At Star Wars Celebration 2023, Kathleen Kennedy announced Dave Filoni would direct a theatrical film that would serve as a climax to the Mandoverse, which includes Skeleton Crew. But would anyone care about it if all the Mandoverse shows get rushed out years before the movie hits theaters?
Star Wars has survived for almost 50 years in large part because it carefully paced its releases. A Star Wars movie was an event. There may be far more content in the Disney+ era, but timing is just as important. Maintaining anticipation is essential, even if it creates a lull in the release schedule. A Star Wars release — even a relatively minor TV show — should be an event too, not an obligation.