Star Wars Is About to Introduce a Revolutionary New Kind of Jedi
Not everyone strong with the Force has to follow all the rules.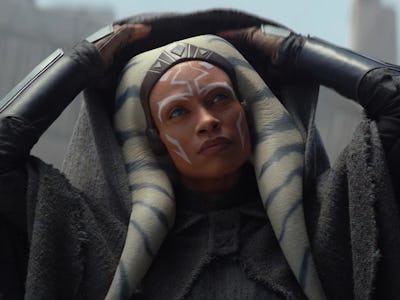 Lucasfilm
Ahsoka Tano has always been a trailblazer. As the first non-movie protagonist of Star Wars canon, her journey in The Clone Wars followed her from her time as Anakin's padawan all the way to the day she survived Order 66.
Along the way, Ahsoka became disillusioned with the Jedi Order, leading her to make a shocking decision. Now, in her live-action spinoff show, the fallout from this decision could redefine what a Jedi is forever.
Ahsoka will follow the former Jedi as she reunites with her friends from Rebels and tries to find Ezra Bridger, who's been MIA since the conclusion of that animated series. Along the way, she may re-examine her connection to the Jedi Order. Ahsoka left the Jedi after being framed, and even decades later, she doesn't align herself with them. When Din Djarin asked her to train Grogu, she told him she couldn't.
In conversation with Empire Magazine, Ahsoka showrunner Dave Filoni described Ahsoka's new identity as unique in its solitude. "She's a wanderer at this point," Filoni said. "And is in a lot of ways wary of any organization as such because of the power that comes with it as a group."
Filoni also teased that she may not be the only one living this way. "She walks a path that basically died out a long time ago," he said. "And there aren't many like her left, if any. So that's a lonely thing. What is that life like? If you are a loner, you have a very small circle of friends. What is it like, then, when you try to open back up?"
It sounds like Ahsoka will dive deeper into the concept of Force-sensitive characters who are neither Jedi nor Sith. These people still use the Force for good, but don't belong to a group or subscribe to a specific code of conduct. It's an interesting premise that could affect how we see Jedi in the future; like Grogu, who still uses his Force powers despite choosing his Mandalorian identity over his Jedi identity, and Rey, who will rebuild the Jedi Order her own way in the next Star Wars movie.
The term "wanderer" evokes the "wandering Ronin," the samurai stock character. The Mandalorian has often been compared to the Ronin subgenre, and the samurai influences were laid on heavily in Chapter 13, "The Jedi," which saw Ahsoka make her live-action debut.
Filoni's comments suggest that these influences will continue to be drawn on for Ahsoka's own series, but also that we'll learn more about her personal definition of Jedi — and what makes a good Force user in general — in a way that could change how we look at them forever.
Ahsoka premieres August 2023 on Disney+.