50 Years Later, Star Trek Finally Addresses Its Laziest Alien Tradition
New life in the final frontier is sometimes... unconvincing.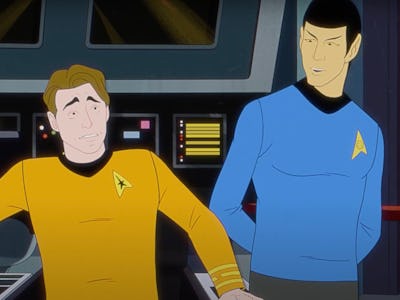 CBS/Paramount
Throughout the history of Star Trek, most "new life and new civilizations" have had two arms, two legs, and a head. A variety of sculpted ears and bumpy foreheads differentiate the aliens that populate the Final Frontier, but it's rare to see truly far-out Arrival-style aliens in Trek.
But as Star Trek celebrates its 57th birthday, a special episode has poked some fun at the fact that all these aliens are basically human-ish. For Star Trek Day 2023, "Skin a Cat" elevates Trek's silliest alien trope into an absurd hyperbole.
Star Trek Day 2023 explained
On September 8, 1966, the original Star Trek debuted on NBC with "The Man Trap." While not exactly the greatest Trek adventure by any metric, it marks the beginning of American audiences seeing the voyages of the Enterprise. Fans have celebrated Star Trek Day on September 8 ever since, and Paramount formalized the holiday in 2020.
In the past, Star Trek Day has featured panels, big announcements, and live performances. However, because of the ongoing writers and actors strikes, there weren't any live events this year. Instead, Paramount+ dropped a YouTube tribute special hosted by Jerry O'Connell. It was also revealed that in October, the Star Trek brand is collaborating with rapper Kid Cudi on clothing and music.
Paramount hasn't released any new trailers or announced any release dates, although O'Connell did mention that Discovery Season 5 is coming in "early 2024." So, that vague release window hasn't been pushed yet. Instead, this year's big Star Trek Day reveal is where the kooky alien stuff comes in.
Very Short Treks Begins With "Skin a Cat"
September 8 also happens to be the first airdate of the Animated Series, which debuted in 1973. So the franchise's quirky and tragically underrated foray into animation celebrates its 50th anniversary this year. In celebration, Paramount is releasing five animated shorts spearheaded by "Too Many Cooks" impresario Casper Kelly between now and October 4. These shorts are animated in the style of the 1973 series, but we've been warned that their events are "anything but canon."
The first episode is available now on YouTube. In it, we find the crew of the Enterprise under attack by Klingons, as per usual. Captain Kirk is played by comedian Pete Holmes, while Strange New World's Ethan Peck reprises his role as Spock. Seeing the old animation style again is a treat for longtime fans, but this short isn't just about fan service.
Instead, Kelly's subversive humor comes to the forefront. When Kirk says, "There's more than one way to skin a cat," the cat-like Lieutenant M'Ress is understandably offended. A crewmember on The Animated Series, M'ress is Caitian, as is Dr. T'ana on Lower Decks.
As Kirk continues to use expressions like "dumbass" and "screwup," aliens with butt-faces and screw-heads appear, all offended by Kirk's careless talk. That's the entire gag: Kirk causing chaos with common idioms, which, if you squint, isn't too far removed from a premise a non-spoof version of Star Trek would try out. Recently, on Strange New Worlds, the Enterprise crew was caught in an improbability field that compelled them to behave like they were in a musical. So this premise isn't exactly out there.
The gag goes pretty far, but it highlights what longtime fans have always known. If you're looking for a serious discussion of theoretical extraterrestrials, Star Trek only does that occasionally. Instead, we love Trek because of the absurd aliens with zany heads. Even the ass-heads.
Star Trek: Very Short Treks releases new episodes to YouTube every Thursday.