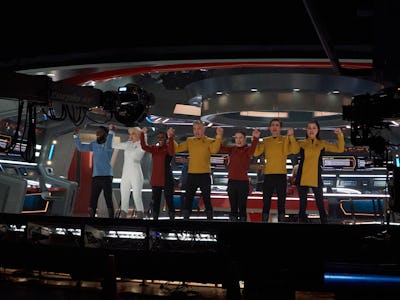 Paramount+
"In a weird way, that made it better."
'Strange New Worlds' co-showrunner Akiva Goldsman
We may receive a portion of sales if you purchase a product through a link in this article.
Behind-The-Scenes On The Star Trek Musical
From the director to the choreographer, to showrunners, writers, and actors — it was all hands on deck for "Subspace Rhapsody."
Strange New Worlds' showrunners always knew Season 2 Episode 9 was going to be big. They just didn't know it was going to be this big.
"It was planned that all the arcs would come to a head in Episode 9," co-showrunner Akiva Goldsman tells Inverse. "Then we decided it would also be a musical and, in a weird way, that made it better. We had obligations to these character stories. And they were gonna sing it!"
Perhaps the biggest surprise of "Subspace Rhapsody," is just how crucial the episode is not just for the overall story of Strange New Worlds Season 2, but for Trek canon more broadly. This fun episode full of singing and dancing isn't just a one-off, it's an essential piece in the Strange New Worlds journey. This is still a prequel series, technically, but, when it comes to addressing the rest of Trek canon, co-showrunner Henry Alonso Myers tells Inverse the show is never "trying to jump into the thing that's it's gonna be," which was especially true of the musical.
"We try to imagine the person who is still living through the moment," Myers adds.
But how did Strange New Worlds pull that off? Inverse spoke to both showrunners, director Dermott Downs, and choreographer Roberto Campanella to find out. Spoilers ahead.
Defying Anti-Gravity
"For me, I wanted to know what Episode 8 was," Roberto Campanella says. "I wanted to know the cast more than anything. I wanted to know their characters."
Campanella is an Oscar-winning choreographer perhaps best known for his work on What We Do In The Shadows and The Shape of Water. But despite his deep knowledge of dance, he maintains that everything about "Subspace Rhapsody" was designed to make sense within the Trek world and not to be constantly winking to other musicals.
"I guess there's one moment, a tribute to West Side Story when the dancers run toward the camera in the finale," Campanella admits. "But other than that, I wasn't trying to reference anything. I let my experience dictate where we were going, physically."
Campanella also largely credits the cast of Strange New Worlds with making sure the story was told through the music. "They know who they are better than anybody else. They were always open to collaborate. Always. I love this cast."
Don't jump the space shark
The director of the episode, Dermott Downs — who previously directed The Flash musical episode "Duet" in 2017 — points out the SNW cast kept the episode "grounded," and although it was the next-to-last episode filmed in Season 2, that the cast "worked weekends," and put in extra rehearsals to get everything just right. Downs credits some of this energy boost to timing.
"You would think they'd be pretty exhausted," Downs says, "but Season 1 just started airing when I was at the end of my prep [in 2022]. So they were very fueled by the positive response of Season 1 when we started filming." Downs makes it clear that everybody sang their hearts out, both on set and in laying down the tracks. "Yes, they all sang," Downs confirms. "When I came on, there were pre-recorded temp tracks, but I was excited to hear their versions because I knew the cast was gonna bring their own nuance and emotions to the songs."
Downs also stresses he didn't want the episode to "jump the shark," and that keeping everything grounded in the reality and canon of Star Trek itself was very important. "The anomaly hits the ship and the music becomes a kind of virus. It's a great plot device. They express what they can't normally say."
Although The Original Series never did a musical episode, the idea of a weird space virus causing people to express their innermost feelings is very reminiscent of the 1966 episode "The Naked Time," perhaps better known as "The One Where Sulu Is Shirtless With a Sword and Spock Cries A Lot." Star Trek canon clearly allows for this kind of thing. But, we now know that a "musical reality" is a part of the Star Trek multiverse.
Downs also points out that almost nothing was cut from the final version of the episode, which runs at 62 minutes. If you count the brief Klingon dance number — featuring the promised return of Bruce Horak as the Klingon captain — there are technically 10 unique songs in "Subspace Rhapsody." In other words, it's a supersized episode for good reason. (Note: speaking to Variety, the showrunners mentioned another version of the Klingon song that was "operatic." It's unclear if that alternate version was ever filmed or recorded.)
"I've done so much episodic TV and that hour becomes really like 42 minutes," Downs says. "This wasn't like that. There's very little that changed. And that starts with the writers' room. They're running a great ship over there."
Star Trek canon shockwaves
While "Subspace Rhapsody," brought Season 2 SNW plot arcs to a crossroads — most notably Spock and Chapel's relationship, Uhura's emerging independence, and Pike and Batel's feelings for each other — it also dove deep into some Captain Kirk canon. While La'an had a relationship with a Kirk from an alternate dimension in Episode 3, she learns she can't have a relationship with Prime Kirk, because he's currently in a relationship with someone named "Carol," and this person is pregnant!
Longtime fans know this is Carol Marcus, Kirk's ex from The Wrath of Khan and mother of David Marcus, their son. The Wrath of Khan takes place in 2285, and Strange New Worlds is happening in 2260 at this point. So, if David is born in 2260 or 2261, that makes him either 24 or 25 in The Wrath, which is just about right. Chronologically, this all matches up with the existing canon, but it probably does change our perception of canon a bit, at least in terms of our feelings about present-tense Kirk.
"Everyone knows this happened," Myers says. "The opportunity that we thought we had was, this is a part of Kirk that you've never seen and it happened, and we have a chance to explore it."
Neither Goldsman nor Myers can reveal if we'll actually see Carol Marcus or baby David in Season 3, but they do stress that Strange New Worlds is always trying to make characters like Kirk seem real to today's audience.
"This is how people live," Myers says.
That said, both showrunners are always open to fan theories, specifically the canon-changing implications of the way the episode ends...
Does the ending of "Subspace Rhapsody" create the TOS theme music?
In the end, the Enterprise crew has to break the "improbability field" of the musical reality, by putting on a show-stopping number, encouraged by the one and only Uhura. But, after this song concludes, the outro music we hear is very clearly the 1960s Alexander Courage theme song of the classic show. All the other songs in "Subspace Rhapsody" were written by Tom Polce and Kay Hanley, but that outro music is 100 percent retro. So if the Polce-Hanley songs clearly exist in-universe, does that mean the theme to Star Trek: The Orignal Series just became in-universe canon because of this episode?
"That hurts my brain too much!" Akiva Goldsman says, laughing. "Pain precludes me from answering that. Maybe?"
Star Trek: Strange New Worlds Episode 9, "Subspace Rhapsody" streams on Paramount+. The album itself is now on Apple and Spotify.