Star Trek Is About To Put Marvel's Biggest Easter Egg to Shame
The musical episode of Strange New Worlds is a geekdom game-changer.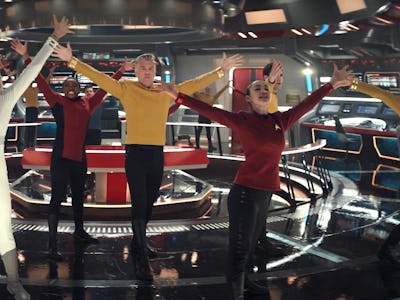 Paramount+
The hype for the upcoming Strange New Worlds musical episode, "Subspace Rhapsody," is real. Without spoiling one aspect of the episode at all, the penultimate episode of Strange New Worlds Season 2 is not only a huge deal for Star Trek canon, but it also throws down the gauntlet for other geek franchises.
Not since Buffy's "Once More With Feeling" has a genre TV series gone this all-in for a musical episode. In fact, because "Subspace Rhapsody" is so utterly committed to delivering a real musical, it makes the joke of Rogers: The Musical in the MCU look pretty silly. Here's what to expect from "Subspace Rhapsody" and why the episode is utterly unmissable for hardcore Trek fans — and anyone else who enjoys people singing about their innermost feelings.
There are no spoilers ahead for Strange New Worlds' musical episode, "Subspace Rhapsody."
Although it's tempting to say that Strange New Worlds is pivoting back to doing a silly episode after the very earnest tone of Episode 8, "Subspace Rhapsody" is not actually silly. In some ways, this is Trek's version of Les Misérables meets Rent. In other words, it's closer to a classic musical than a musical comedy. The goal here is not to spoof Star Trek or musicals in general. Instead, the episode imagines what Star Trek would be like as a musical and provides in-universe reasons for all the dancing and singing.
Compare this to Rogers: The Musical. In the first episode of Marvel's Hawkeye, the Disney+ show satirizes big musicals and imagines a pathetic version of the Avengers dancing and singing. Yes, Rogers: The Musical has become a "real" musical at Disneyland these days, but even that is only 35 minutes. The total runtime of "Subspace Rhapsody" is just over 60 minutes and there are a lot of songs.
All of the songs in "Subspace Rhapsody" are also original. Unlike some of the musical episodes in The Magicians, Trek is not going the route of a jukebox musical. This isn't about the crew suddenly becoming obsessed with early 21st-century pop songs. The original songs in this episode (written by Tom Polce and Kay Hanley with original choreography from Roberto Campanella ) are 100 percent made for these characters and their stories, which also speak to the integrity of the concept as a whole. "Subspace Rhapsody" isn't an episode that exists for the novelty of hearing Spock sing a Beatles song, it's an original musical with Star Trek characters.
While it's true that fans have been creating their own musical versions of Star Trek for years (Gene Roddenberry even wrote lyrics for the classic Trek theme song) in all fifty-seven years of the franchise's history, song and dance created specifically for the crew of the USS Enterprise has never happened. Data has sung. Sisko has sung. Dr. Crusher has proven that she was (and is) "the dancing doctor." But the characters have never had songs and dances that were their own.
When it comes to pop art, Trek has tended to borrow from the public domain, mostly for legal reasons. Picard is into Shakespeare because Shakespeare is great, but also because it's free to quote. Ditto Kirk and Dickens or Khan and his obsession with Herman Melville. And because Sherlock Holmes wasn't fully in the public domain in the '80s and '90s, Data was limited by the number of adventures he could have in that fictional world.
What makes "Subspace Rhapsody" so different and refreshing is that, like all of Trek's other forays into different forms of pop art, it presents a genre and style that doesn't break science fiction, but instead can be fused with science fiction. When Roddenberry created Trek back in the early 1960s, he made it malleable enough to accommodate a variety of different styles. Even The Original Series features an episode in which a theater troupe boards the Enterprise.
Trek has always been theatrical and often hyperbolic in its style. Spock and Kirk may never have broke out into songs in the classic show, but the format certainly would have allowed for it. In 2023, Strange New Worlds is simply using the format of The Original Series — open-ended sci-fi concepts every week — and taking that flexibility to its fullest potential. In other words, just because "Subspace Rhapsody" is the first musical episode in the Trek canon, it doesn't have to be the last.
Star Trek: Strange New Worlds, Season 2, Episode 9, "Subspace Rhapsody" premieres Thursday, August 3 on Paramount+.