58 Years Later, Star Trek Finally Reveals How Two Legendary Characters Met
Ethan Peck, Paul Wesley, and Strange New Worlds DP Benji Bakshi unpack that big Episode 6 ending.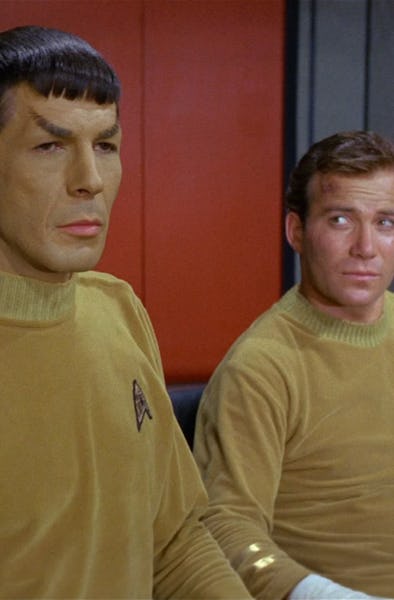 The Inverse Interview
We may receive a portion of sales if you purchase a product through a link in this article.
When did Kirk and Spock meet? Although we saw the famous sci-fi pals get to know each other in the 2009 J.J. Abrams reboot movie Star Trek, the Chris Pine and Zachary Quinto versions of Kirk and Spock weren't the same ones from the so-called "Prime Universe." This means, that prior to the 1965 episode "Where No Man Has Gone Before," we have never seen, in an episode, or film, the canonical first meeting of Kirk and Spock. Or, Kirk and Uhura for that matter!
But now, Strange New Worlds has changed everything. In the Season 2 episode "Lost in Translation," Kirk (Paul Wesley) partners with Uhura (Celia Rose Gooding) for the first time, and in the final scene of the episode, meets Spock (Ethan Peck). Here's how the Strange New Worlds team made this iconic moment so special. Spoilers ahead.
Note: These interviews were conducted prior to the SAG-AFTRA strike.
Primarily, "Lost in Translation" is first, and foremost, an Uhura (Celia Rose Gooding) episode. While the Enterprise and the Farragut are assisting in the construction of a Deuterium refinery near Gorn space, Uhura begins receiving telepathic messages in the form of hallucinations and waking dreams. Is she going nuts? Nope! It's a classic Star Trek case of non-corporeal aliens trying to communicate the only way they know how. Through flashbacks and visions, this episode features the warm return of Bruce Horak as Hemmer — who told everyone last year that he would return in another guise.
But the person who assists Uhura the most in this episode is Lt. James T. Kirk of the USS Farragut. After seeing Paul Wesley's Kirk in two different alternate universes — Season 1's "A Quality of Mercy" and Season 2's "Tomorrow and Tomorrow and Tomorrow," this is the first full-length episode in which Wesley appears as Kirk throughout. At this point in the timeline, he's the first officer of the Farragut, a fact that annoys Kirk's brother, Sam Kirk (Dan Jeannotte), who feels like Jim is just showing off. But for Paul Wesley, playing Kirk meant he was stressing out, not showing off.
"Unlike Kirk, in my head, I wasn't casual about this," Wesley tells Inverse. " I was over-analyzing it on set going, oh my God, can you believe this? But Ethan [Peck], was much more cool about it and the director was much more cool about it. They had me chill out."
Wesley is mostly referring to the fact that the episode ends with Kirk and Uhura hanging out together in the mess hall, and then, Spock joins them and the two men shake hands for the very first time. For the director of photography, Benji Bakshi, doing a shot of the actual handshake was a big deal.
"I'm glad you brought up the handshake," Bakshi says. "The presentation of that moment was entirely intentional. The director, Dan Liu, and I talked about this a lot. We wondered if it was too obvious to do the handshake. But I think we both decided let's just have it, right? I think it was a really strong punctuation of the moment, that Uhura gets to witness this. She almost gets to be us, the audience saying ... huh, I'm glad these two finally met."
For Peck, he was very aware that he was filming a retroactively very historical moment. But, he attributes his calm and cool approach to the scene as "the character [of Spock] really rubbing off on me," and points out that "I didn't wanna overthink and was really careful not to as well."
In-universe, Spock, Uhura, and Kirk have no idea, at this point, in 2259, that they'll be ride-or-die for each other literally until the late 2290s. "Because we're a prequel series, we always have to try not to tip the hat too much," Bakshi explains. This is why the final shot, in which the camera pulls away, just shows Uhura, Kirk, and Spock as one more table of people in a crowded room. This was just another day. It wasn't special necessarily. At least not at the time.
"That disappearing into the crowd was sort of making the statement," Bakshi says. "If you were there a fly on the wall, you just see these people in the corner and you wouldn't know what it would become. Uhura doesn't know who she's going to become. We, as the audience, get to play with that drama. It's gonna be awesome because Spock is going to save the galaxy and do all this stuff. But they don't know this, so we get to revel in their journey."
Peck says that at this moment, there's no way Spock can know how much affection he'll end up having for Jim Kirk. "I recall having a lot of skepticism for Kirk, from the perspective of Spock," Peck explains. "But, there's also that spark of chemistry between the two of them that I think, I hope we captured."