57 Years Later, Star Trek Is Finally Going To Conquer The One Genre It's Never Tried
Once more, with bold feeling...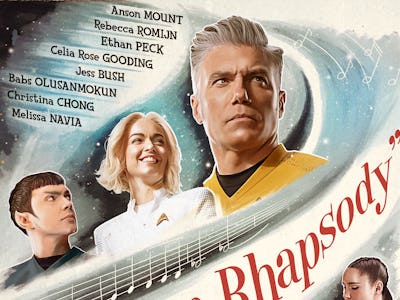 Paramount+
Since September 8, 1966, the Star Trek franchise has seemingly tried out every single genre on the planet. Yes, Trek is contained by science fiction, but within all of the franchise, there is a huge range of genres — from whodunnits to romantic comedies to spy stories and political thrillers, horror, adventure, westerns, family dramas, and very often, straight-up Shakespeare. The amount of things inside of Star Trek is staggering. And yet, the Final Frontier has never, in 57 years, not once, attempted a musical. Until now. As revealed at San Diego Comic-Con 2023, the penultimate episode of Strange New Worlds Season 2 will be a full-on musical.
On Saturday, July 22, at the Star Trek panel in Hall H of San Diego Comic-Con, one of the worst-kept secrets in the world of Trek rumors was finally confirmed. For a long time, cast members and creatives — from Akiva Goldsman to Christina Chong — have been teasing something big, and for Star Trek, groundbreaking. Earlier this season, Chong told Inverse that, "Episode 9 this year was something I'd pitched from day one of getting the part." So, if you're excited about the musical, thank La'an herself! Here's the trailer for "Subspace Rhapsody," which isn't the season 2 finale of Strange New Worlds, but kinda feels like it could be.
Strange New Worlds "Subspace Rhapsody" trailer
So there's a lot going on here. But, interestingly, it looks like that in true Star Trek form, this episode will attempt to explain why everyone is bursting into song and dancing, with some kind of sci-fi plot device. At the start of the trailer, the Enterprise is hit with some kind of spacey anomaly, and then, suddenly, we've got dancing and singing.
Canonically, Uhura is a great singer, which is why Celia Rose Gooding is singing in this trailer, which honestly, was foreshadowed a bit in the Season 1 episode "Children of the Comet," when she and Spock (Ethan Peck) had to sing to make an intelligent comet alien calm down. Christina Cong also sang a little bit in the Season 1 episode, "The Elysium Kingdom," and she released her own solo album called Twin Flames this year. But, it looks like in this episode everybody will sing. Perhaps not since The Magicians has a big sci-fi or fantasy show attempted to do what Buffy the Vampire Slayer pulled off in the year 2001 with its big musical episode, "Once More With Feeling." But, if skeptics remain unconvinced, Henry Alonso Myers, a co-showrunner of SNW, also worked on The Magicians, and those musical episodes are absolutely fire.
The poster for "Subspace Rhapsody" is also an instant classic, and will give longtime fans of musicals a good feeling. The tone of both the trailer and the poster art is just corny enough to work, and from what we can hear of the songs, this sounds amazing.
And who knows? Considering this season of Strange New Worlds also contained a crossover with an animated series, it feels like anything is possible now. If "Subspace Rhapsody" is successful, perhaps we could look forward to a musical episode every season. And if time travel ever gets involved again, we know many, many Next Generation/Picard cast members who can sing and dance their hearts out. In a way, didn't Picard kinda pave the way for this? Isa Briones (a Hamilton alum!) sang "Blue Skies" in Season 1 of Picard, while, of course, Alison Pill brought down the house in Season 2 with that big-band Pat Benatar cover of "Running With the Shadows of the Night."
No word yet on when the Strange New Worlds Season 2 soundtrack drops but when it does, rest assured, fans are going to beam it up faster than Spock can pluck his Vulcan harp.
Star Trek: Strange New Worlds, Season 2, Episode 9, "Subspace Rhapsody" airs August 3, 2023, on Paramount+.