Star Trek's Biggest Breakout Star Spills The Details On That Captain Kirk Bombshell
Christina Chong is here to conquer the univesre.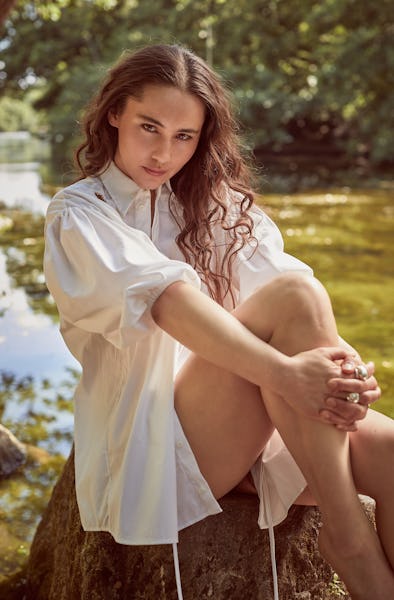 Alex Jones
Starting with Season 1, Strange New Worlds posited one new character as the key to the past, present, and future of the Star Trek canon. As played by Christina Chong, La'an Noonien-Singh knows things about the Gorn and Khan that caused Strange New Worlds writer Davy Perez to dub her an "Easter egg basket" in 2022. And, now, with the episode "Tomorrow and Tomorrow and Tomorrow," La'an is literally at the crossroads of all the Treks that have come before, and some Treks that haven't even happened yet. After her adventure with Captain Kirk (Paul Wesley), Trek will never be the same.
Ahead of this episode, Inverse caught up with Christina Chong to talk about La'an's big moment with Kirk, and the future of Star Trek — including some huge hints about surprises coming this season on Strange New Worlds. Spoilers ahead.
Season 2 of Strange New Worlds is an "evolution" for La'an, Chong describes. Part of that evolution is the fact that La'an is opening up to people, most notably her big romance with an alternate version of James T. Kirk, who exists in a timeline created by accident.
"In Season 1 we had her trauma in the past, but this is completely different," Chong explains. "This is about opening your heart, in a positive way. I think what she really likes about Kirk is that he doesn't judge her. He's being very vulnerable in this episode, he's like on Earth and like 'what the f*ck is this?' And I think she finds that quite endearing, he's vulnerable, so she feels like she can also be vulnerable. Which opens the door to romance."
In "Tomorrow and Tomorrow and Tomorrow," La'an is recruited by a future-tense Department of Temporal Investigations — basically the "time police" — from the Deep Space Nine and Voyager eras. Her ad-hoc mission is to prevent the Romulans from changing the past and creating a future in which Earth is decimated in the 21st century, and Starfleet doesn't exist. This means the James T. Kirk she encounters isn't from the same timeline, but instead, from a bleaker, alternate Trek future that is doomed. The surprising twist here isn't that this timeline is created, or even that La'an and Kirk develop a romance while trapped in the 21st century. Instead, it's the fact that at the end of the episode, Captain Kirk is shot by a time-traveling Romulan agent and dies.
"This is about La'an having that human connection and then losing it," Chong says. "She learns she can have that connection with someone, and then goes, 'Oh my God. I just had it and it's been taken away from me."
After La'an is told that she has to keep her time travel mission secret, including the death of the alternate Kirk, she calls up the Prime Universe version of Kirk, still alive and well in "our" timeline. After awkwardly confirming that this version of Kirk is okay, La'an hangs up and then weeps openly.
"She's thinking: 'What I am left with?' And she can't even share it," Chong explains. "And I can't tell anyone about it!"
And, just because this version of Kirk died, doesn't mean there aren't even more intense and surprising turns for Kirk and La'an later in the season. Beyond the upcoming Lower Decks crossover on Strange New Worlds Season 2, Christina Chong teases there is something even bigger coming before the finale.
"Episode 9 this year was something I'd pitched from day one of getting the part," Chong reveals. "I told Henry, Davy, and Akiva, to sit down and pitched them this concept. Which is huge. But then, like a year later, Akiva told me, 'Hey kid, we're doing that episode.' I was like, with tears in my eyes. I couldn't believe it. I was absolutely bowled over by the fact that it had manifested in this way. I can't wait for people to see it."
Will this be a long-rumored musical episode of Strange New Worlds, another crossover? (Chong did just drop a new single called Twin Flames.) Something else? Chong won't spoil it but does say she hopes that Strange New Worlds continues for a long, long time.
"I think why it's so special is because we're leading to something," Chong says. "Everyone knows, where this is going. And finding out how we get there is very exciting. Obviously, you can't go on too long because we need to get to Kirk's ship. But, who knows? There could be spinoffs. I mean, there isn't, right now. There's not a La'an spinoff. But maybe I'll pitch that one day."
Star Trek: Strange New Worlds streams on Paramount+. Christina Chong's new single Twin Flames is on Spotify, Apple, and YouTube, with an album of the same name hitting shelves on August 11.