Spider-Man: No Way Home's Biggest Scrapped Cameo Would Have Been a Total Mistake
One of the Spider-Verse's most tragic characters almost re-appeared, but good judgment prevailed.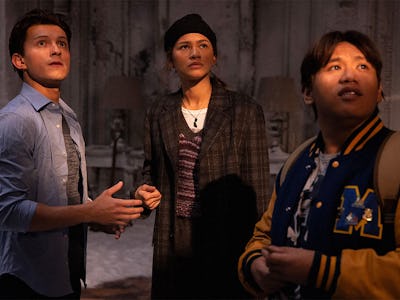 Sony Pictures
There's no shortage of crossover in Marvel's Cinematic Universe, considering that's pretty much the franchise's stock in trade. Marvel movies were ensemble affairs long before Avengers: Endgame brought all their disparate teams together under one very big banner, but after the universe became a multiverse, MCU projects got even bigger.
Spider-Man: No Way Home represented the first step into a comparatively larger world. Its reputation preceded it, especially when it came to the sheer number of rumored cameos from Sony's past two Spider-Man series. Spidey villains like Willem Dafoe's Green Goblin and Rhys Ifans' Lizard were among those officially confirmed, and leaks heralded the return of Toby Maguire and Andrew Garfield as their respective webheads. Rumors ballooned to include leading ladies like Mary Jane Watson (Kirsten Dunst) and Gwen Stacy (Emma Stone); even members from Netflix's Defenders-verse were said to make an appearance.
In the end, most of the rumors turned out to be true, though No Way Home still managed to tell a surprisingly intimate story despite its huge cast. Producers Amy Pascal and Kevin Feige didn't want "cash grab cameos" lest they distract from MCU-Peter's (Tom Holland) emotional journey. "It's about the story," Feige told The New York Times in 2021. "That's the reason there's not another 20 people in the movie."
It was the pursuit of a genuine story that ultimately prevented Dunst or Stone from reprising their roles. That said, there actually were plans to bring the two actresses back. Their long-rumored involvement has since been confirmed in the new Marvel book MCU: The Reign of Marvel Studios, which goes into detail about initial drafts from screenwriters Erik Sommers and Chris McKenna:
"Sommers and McKenna, at various points, wrote versions of the story that incorporated Emma Stone's Gwen Stacy, Kirsten Dunst's Mary Jane Watson, and Sally Field's Aunt May, but ultimately cut all those women when they decided that the story was already overstuffed."
As nice as it would have been to see MJ and Gwen again, it was probably best to leave them out, as their cameos would have distracted from the emotional journeys the Spider-Men embark on. An appearance from Gwen in particular would have felt out of place, given the effect her absence brings to the finished product.
When we last saw Gwen in The Amazing Spider-Man 2, she became a tragic casualty in Peter's brawl with the new Green Goblin (Dane DeHaan), and her loss continues to haunt him as he continues his superhero tenure. Gwen's demise is one of the most controversial moments in Spider-Man history, but it's also one of the Spider-Verse's bolder choices. It wasn't received well when The Amazing Spider-Man 2 first hit theaters, but it's gone on to inform Garfield-Peter's emotional arc in mature and compelling ways. Peter even gets a chance to redeem himself by saving MJ (Zendaya) in No Way Home. It's an emotional moment we might have never gotten had Stone reprised her role as Gwen.
No Way Home ultimately achieved the perfect balance between fan service and story, and that discipline may have opened more doors for Spider-Man alums to return in the future. Fans have been clamoring for an Amazing Spider-Man 3 with Garfield back as the star web-slinger, and given the loose rules that govern the multiverse, Stone could potentially return as Gwen, too. Whether that would undermine the emotional weight of her loss remains to be seen, but if No Way Home can pull off its ambitious crossover, then anything is possible.