Space Force Season 1 release date, trailer, cast, plot for Netflix's military satire
Here's everything we know about Netflix's space-workplace comedy from the creators of The Office.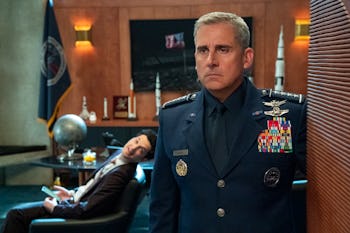 This article about Season 1 of Space Force was originally published on April 8, 2020 and updated on October 10, 2021 following the release of the season on Netflix. Read on for the original article, with some new changes to reflect the latest updates on this topic.
When President Donald Trump announced the formation of a Space Force in June 2018, a lot of people thought it was a joke. For now, the real-life effort to create a space-focused branch of the military hasn't progressed very far, but over on Netflix, Space Force is a very real thing.
The new workplace comedy from The Office alumni Greg Daniels stars Carell alongside an impressive ensemble cast. Space Force parodies the military, especially when it comes to issues like spending and bureaucracy, while also throwing a few digs at an unseen President who serves as a stand-in for Trump.
[Must read: SPACE FORCE SET PHOTOS SHOW AN AMBITIOUS NETFLIX COMEDY IN THE MAKING]
What was the release date of Space Force?
Space Force Season 1 arrived on Netflix on May 29, 2020.
How many episodes were there in Space Force Season 1?
Space Force Season 1 contained ten episodes. True to Greg Daniels' bread and butter of half-hour comedies, each episode ran between 27 and 36 minutes.
Is there a trailer for Space Force?
Yes! Netflix released the official trailer for Space Force on May 5, 2020. Watch it here:
The trailer mostly focuses on Steve Carrell's General Mark R. Naird. We see the Space Force order come in, and Carrell's character gets drafted to lead the new organization. We also meet the rest of the cast, which is mostly a mix of overly patriotic military officers and scientists who are considered untrustworthy because they care more about science and reason than nationalism.
The best moment comes at the end when Carrell starts singing the Beach Boys song "Kokomo" to calm himself down. It's classic Michael Scott in the best way possible.
If you're hungry for more, you can also check out the official teaser trailer, though it doesn't reveal much.
Who's in the cast of Space Force?
Space Force boasts a stacked cast. Beyond Steve Carrell, the rest of the cast includes Sonic the Hedgehog himself, Ben Schwartz, The New Pope's John Malkovich, Tawny Newsome, Jimmy O. Yang (Silicon Valley), Noah Emmerich, Fred Willard, and Jessica St. Clair.
Lisa Kudrow and Chris Gethard also make appearances, making Space Force a regular who's who of sitcom icons and drama actors with comedy chops.
Is Steve Carrell in every episode of Space Force?
Yes! Initially, Carrell was only listed in the first three episodes on Space Force's IMDB page. That made fans speculate that there would be some sort of surprise death for the main character. But Mark survived through Season 1, appearing in all ten episodes.
What's the plot of Space Force?
Space Force captures the creation of a branch of the military, but like all workplace shows, the interpersonal relationships between those establishing the branch play a large role as well. Steve Carell plays General Mark R. Naird, a character who seems to be based on real-life Chief of Space Operations John W. "Jay" Raymond.
John Malkovich plays Dr. Adrian Mallory, Space Force's chief scientist. Ben Schwartz plays media director F. Tony Scarapiducci, who receives an unfortunate nickname from his coworkers. Diana Silvers plays Mark's teenage daughter Erin. And Tawny Newsome rounds out the main cast as Captain Angela Ali, who gets recruited from pilot to astronaut.
How realistic is Space Force?
When it was released, the Space Force has only been in existence for a few months, and it doesn't consist of much just yet. For those wondering what the Space Force will actually do, look towards the Space Command branch of the Air Force. So while the actual Space Force might not turn out to be what's portrayed on the show, there will definitely be some space action to keep viewers captivated.
Was Space Force renewed for Season 2?
Yes! Despite mixed reviews for the first season, in November 2020, it was announced that Space Force would be renewed for a second season. Filming for Season 2 happened between May and June 2021, meaning we could see a late 2021 or 2022 release.
Space Force Season 1 is currently streaming on Netflix.
This article was originally published on