Everything we know about Snake Eyes 2021: Release date, plot, trailer
The coolest member of G.I. Joe is starring in his own movie on July 23. Here's everything you need to know about the prequel spin-off.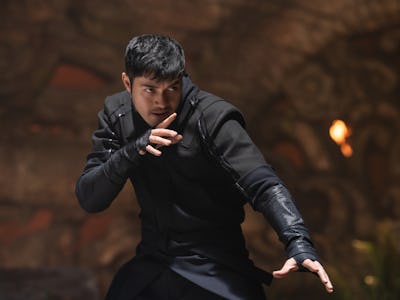 Paramount Pictures
GO JOE! The coolest member of G.I. Joe, the ninja special ops agent Snake Eyes, will star in his own prequel/reboot movie coming this summer. And there's someone special behind the mask.
This July, Paramount Pictures will reboot the G.I. Joe film franchise with the release of Snake Eyes: G.I. Joe Origins, an origin movie that reveals the backstory of the mysterious G.I. Joe member Snake Eyes. Henry Golding, star of the 2018 rom-com Crazy Rich Asians, will don the mask of Snake Eyes in his first major Hollywood action role.
Here's everything you need to know about Snake Eyes: G.I. Joe Origins. Bookmark this page and check back often as we'll update it with everything you need to know and see as its release in July 2021 draws near.
What is the release date of Snake Eyes: G.I. Joe Origins?
Snake Eyes: G.I. Joe Origins will be released in theaters on July 23, 2021.
The movie was first scheduled to release on March 27, 2020, but was delayed several times before landing on October 23, 2020. By the spring of 2020, the Covid-19 pandemic compelled studio Paramount to delay the movie by an entire year, to October 2021.
In April, Deadline reported the studio had moved up Snake Eyes to a summer release, hoping to make it a tentpole blockbuster for the season.
When and where did Snake Eyes: G.I. Joe Origins shoot?
Filming for Snake Eyes: G.I. Joe Origins began on October 15, 2019, in Vancouver, where it filmed for the rest of the year. Starting in January 2020, production then moved to Japan.
Per star Henry Golding's Instagram, filming wrapped on February 26, 2020, shortly before productions worldwide shuttered due to the coronavirus pandemic.
Where can I watch the trailer for Snake Eyes: G.I. Joe Origins?
The first teaser trailer for Snake Eyes was released during the MTV Movie Awards. You can watch the trailer below.
The full trailer for Snake Eyes came out on June 21, 2021. You can watch that trailer below.
What is Snake Eyes: G.I. Joe Origins?
Snake Eyes is a prequel film that details the origins of Snake Eyes, a trained ninja who operates with the elite G.I. Joe. While he is not the leader of the G.I. Joe team, Snake Eyes has been one of the most popular characters in the franchise, equivalent to Wolverine of the X-Men.
The movie is directed by German filmmaker Robert Schwentke, who also directed the 2010 action movie Red. The screenplay is written by Evan Spiliotopoulos, who also wrote the 2017 billion-dollar hit Beauty and the Beast and the 2019 Charlie's Angels.
Though a "solo" origin movie, Snake Eyes is also functioning as a reboot of the G.I. Joe franchise, which was previously made up of G.I. Joe: The Rise of Cobra (2009) and G.I. Joe: Retaliation (2013) where Star Wars actor Ray Park played Snake Eyes. After Snake Eyes, you can expect a new G.I. Joe movie universe, one that may or may not also inhabit a shared continuity with other Hasbro properties like Transformers, Rom the Space Knight, M.A.S.K., and as of 2018, Power Rangers.
Will there be a sequel to Snake Eyes: G.I. Joe Origins?
A "sequel" to Snake Eyes is already in development. In May 2020, The Hollywood Reporter reported the follow-up will take audiences "deeper into the world" of G.I. Joe. Joe Shrapnel and Anna Waterhouse, of the 2019 thriller Seberg, are in charge of writing the movie.
What is the plot of Snake Eyes?
As told by the trailers, Snake Eyes is about the transformation of a zero into a hero.
While Snake Eyes' story is a bit different from the comics written by the legendary Larry Hama, the general skeleton and themes of Snake Eyes remains the same: An outsider is welcomed into the secretive Arashikage ninja clan, where he is sharpened into a warrior.
In the original G.I. Joe comics, Snake Eyes was a Vietnam War vet who served in the U.S. military with Storm Shadow. Upon their return stateside, Snake Eyes learns his family was killed in a car accident. Left without a home, Storm Shadow took in Snake Eyes to Japan, where they trained together as ninjas in the Arashikage clan. Snake Eyes excelled in his training, currying favor with Storm Shadow's uncle Hard Master. This created a rift between Storm Shadow and Snake Eyes, who fight on opposite sides of the G.I. Joe/Cobra Command war.
Before joining G.I. Joe, Snake Eyes lived a secluded life in the High Sierras with his wolf, Timber. In an early mission for the Joes, Snake Eyes' face was disfigured, leaving him to conceal his face behind a mask. His vocal cords were also damaged, which explains why Snake Eyes never speaks. Among the G.I. Joe team, Snake Eyes develops a relationship with Scarlett.
Little else is known about Snake Eyes' identity, including his real name. He has been shown to be a blonde, Caucasian male with blue eyes, but anything more about his personality and personal history have never been revealed.
Snake Eyes: G.I. Joe Origins will tell a new version of Snake Eyes' story, including how he lost his voice. The film will set up a sequel that will reintroduce G.I. Joe on the big screen.
Who is starring in Snake Eyes?
The cast of Snake Eyes is as follows:
Henry Golding (Crazy Rich Asians) as Snake Eyes, a special ops soldier and ninja for the G.I. Joe. Snake Eyes: G.I. Joe Origins is his origin story that leads into a new G.I. Joe universe.
Andrew Koji (Warrior) as Storm Shadow, the "sword brother" of Snake Eyes who joins the evil Cobra Command, an opposition force to G.I. Joe.
Iko Uwais (The Raid) as Hard Master. In the comics, Hard Master was the elder uncle of Storm Shadow. Given that Uwais is only 37, not much older than either Golding and Koji (both 33), fans should expect a departure in the character's portrayal.
Peter Mensah (Spartacus: Blood and Sand) as Blind Master, a blind martial arts expert. In the 2013 film G.I. Joe: Retaliation, the role was played by RZA and revealed as the master who continued Snake Eyes' training after the death of Hard Master.
Úrsula Corberó (Money Heist) as Baronness, an intelligence officer who serves Cobra Command.
Samara Weaving (Bill & Ted Face the Music) as Scarlett, a counterintelligence agent for the G.I. Joe. In the comics, she develops a romantic relationship with Snake Eyes.
Haruka Abe (BBC's Ideal) as Akiko, another trainee in Arashikage.
Takehiro Hira as Kenta, a member of Cobra.
Steven Allerick will also appear in the film in an undisclosed role.
As you may notice, the casting of British-Malaysian actor Henry Golding as Snake Eyes is an interesting one. In the original G.I. Joe canon, Snake Eyes was a white male, a decision by Larry Hama — a prominent Japanese-American comic book titan — to illustrate Snake Eyes as an outsider to his Japanese surroundings.
In an interview with Inverse, Golding said this new version of Snake Eyes is the story Hama "always wanted to tell" but couldn't during his time on G.I. Joe.
"He gave us license to co-create with him the backstory he always wanted to tell," Golding said. "People are like, 'That's not his history. He's meant to be white.' Well, maybe Larry had to do that. Maybe Larry had to make an obvious fish out of water. He had to make him white with blonde hair and blue eyes."
Snake Eyes is still a story about outsiders, now told through the lens of the Asian diaspora who are raised outside their ethnic origins.
"It gave us the ability to start over with the blessing of Larry Hama," Golding says. "Nowadays, we're all fish out of water."
Snake Eyes: G.I. Joe Origins will be released in theaters on July 23, 2021.
This article was originally published on